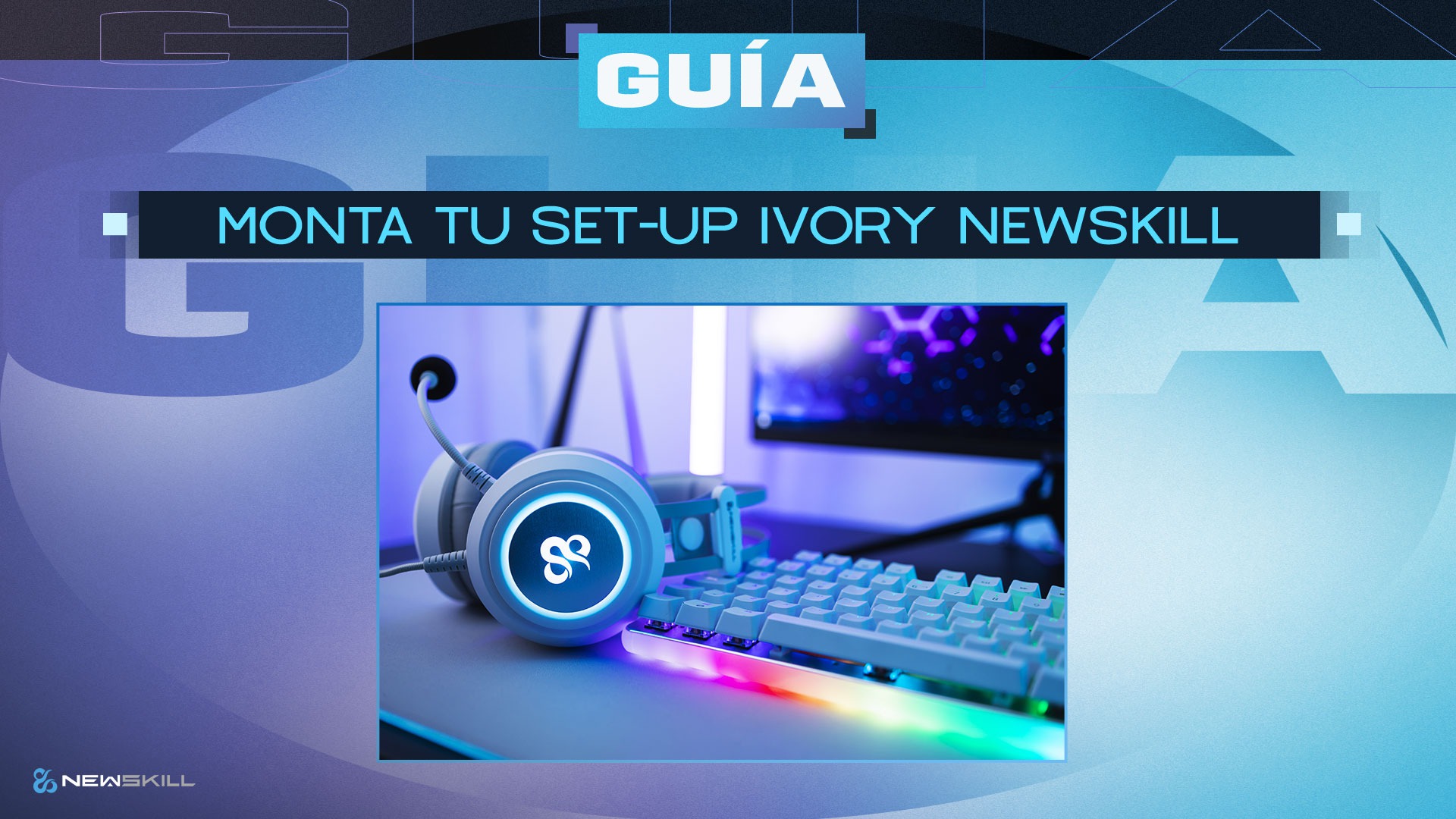 Today we bring you a brief overview of our Ivory product catalog, so that you can get ideas if you are thinking of upgrading any of your peripherals, but be warned that you may fall under the spell of Ivory and end up with a complete Ivory set-up. Can you resist?
Ivory Headphones
We can say that, with the incorporation of Scylla Ivory recently, all our current headphone models are also available in Ivory version. What is an Ivory set-up without matching headphones?
Let's face it, we know that headphones are a particularly important component of your set-up. Among our different models, you will find the one you need for sure because, each of them has specific features, and all of them come with microphone and RGB lighting.
If you are looking for a simple headset to start with, and compatible with different devices, our Ivory headphones are perfect: plug-&-play technology Drakain Ivory are perfect: plug-&-play technology, 3.5mm jack connection, illumination via USB and you're ready to play
Kimera Ivory V2 with 7.1 surround sound and software lighting configuration, this model is the one for you if you want to stand out in the game. In addition, its USB connection allows you to connect them to various devices, and its removable microphone with anti-pop filter makes them perfect for any use
If you are one of those who prefer not to have cables around, our Scylla Ivory are just what you're looking for. They are wireless and work through a wireless stick that comes with them. You can also use them with the usual 3.5mm jack connection. Simple to connect, you will only have to pair them with the device you are going to use and you will have them working. Its microphone is removable and, from the headphones themselves you can mute it with a small button. Choose from a variety of colors and different lighting effects. Are they the most beautiful headphones you have ever seen? Yes, they are
Ivory Keyboards
If choosing between our different headsets has been difficult for you, get ready to meet all our Ivory keyboards. Don't worry, we'll make it easy for you because no matter which one you choose, you'll get a high quality keyboard. All our Ivory keyboards are mechanical and with Spanish layout.
Many of you already know our Suiko Ivorywhich was the first white keyboard with a Spanish layout in our country. With more than twenty lighting modes, customization and software configuration, our Suiko Ivory was destined to conquer your hearts. That's why it is available with kailh brown, blue or red switches, so you can choose the one that best suits your needs.
On the other hand, we have Serike Ivory in red switches, a compact and lightweight keyboard, with RGB, both on its keys and on its sides that, through software, will allow you to configure its lighting in detail. With the same features but in a compact form factor, TenKeyLess, we have Serike TKL IvorytenKeyLess: 40% smaller but just as big in performance
And, the latest addition to the family of keyboards is Pyros which, of course, is available in its Ivory version. An ultra-compact 60% keyboard, for those who prefer wireless peripherals, in this case via Bluetooth, although it also has a cable. It also has software for customizing the lighting and, with its multimedia keys you can create shortcuts that will facilitate its use as you need at all times. In short, a beautiful keyboard that you can use at your desk or from the sofa.
Complete Ivory set-up
As for mice, our model Eos Ivory is the only one available in white at the moment. Why? Because we know it's a safe bet for any gamer and set-up, but which of our mice would you like in Ivory version?
And, as an extra, don't forget that our mouse pad Nemesis Ivory XL is the perfect icing to accompany your set-up. You will see how our Eos Ivory slides on it, there will be no game you can't play with this combo
Bonus Point
As we are sure you have grown fond of our Ivory peripherals range, we want you to take a look at our new matching backpack, Mercury. Designed especially for you to carry your peripherals in the safest way, whether for tournaments or travel, but also for your day-to-day use, for work, studies or leisure.
Nothing like enjoying a complete set-up to match, but which of all the possible configurations will you choose? Tell us, which models are the chosen ones to be present in your set-up?
Comments (0)
No comments at this moment