Many of you have asked us about the measurements of our gaming chairs. That is why we have prepared an article in which we detail the measures of all chairs Newskill currently available on the market. Want to know more?
Choose the model of gaming chair that fits you
Maybe you already have one of our most common gaming chair models such as Kitsune, Takamikura, Takamikura Carbon or Kuraokami and you want to change it for a brand new model from the five we have launched. Or simply Kaidan, Valkyr, Aryon, Akeron or Nayuki have caught your attention and you want to know which chair model is best suited to your type of gaming. Before making the decision to buy one chair or another, it is important to know if you are going to be comfortable once you are seated
Measurements of our most common models
The gaming chairs you know us for are probably one of the four that have been on the market the longest. Kitsune and Takamikura are always present in skillers' homes, and Kuraokami and Takamikura Carbon have always been a good choice for the most demanding gamers
Knowing the width of the base, the length of the seat or the overall height of the chair can make the difference between choosing one chair model or another, no matter how much we like its design
Measurements of the new gaming chairs Newskill
They have only been on the market for a short time, but many skillers have already fallen in love with them. Valkyr, Kaidan, Nayuki, Aryon and Akeron have not left anyone indifferent. We know that there are many people still undecided about whether to buy one model or another and in response to the queries of the community we have prepared a table in which all the measures of the new gaming chairs Newskill are specified
how much does each chair model weigh?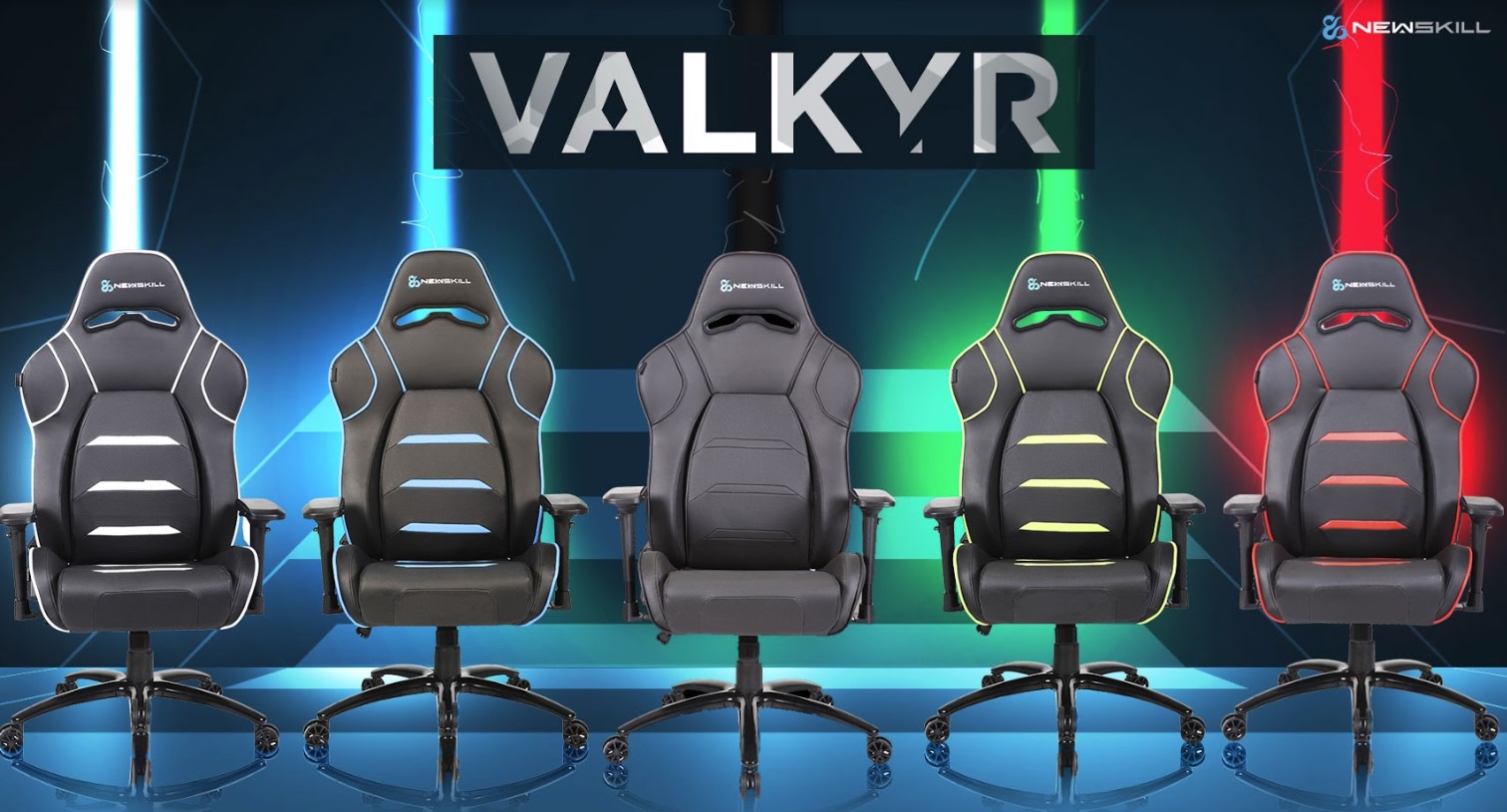 Another of the most frequent questions about our chairs is how much each model weighs. Below we indicate the weight of each of our gaming chairs:
NAYUKI: 17 kilograms
ARYON: 20 kilograms
KITSUNE: 25 kilograms
TAKAMIKURA: 26 kilograms
AKERON: 25 kilograms
KAIDAN: 25 kilograms
VALKYR: 25 kilograms
A gaming chair for every type of gamer
One of the main doubts you usually have about gaming chairs is your height and which model would suit you best for each occasion. From Newskill we have elaborated some height ranges with their corresponding optimal models for each case:
From less than 1.50 to 1.60 meters: Nayuki
From 1.60 to 1.70 meters: Aryon
From 1,70 to 1,80 meters: Takamikura, Kitsune, Akeron
More than 1,80 meters: Valkyr, Kaidan
We hope we have been helpful and wish that now it will be much easier to choose between Valkyr and Kaidan for example. We are having a hard time deciding. For the time being we are left playing our favorite game with the new Scylla wireless headset. Haven't you heard about it yet?
Comments (0)
No comments at this moment