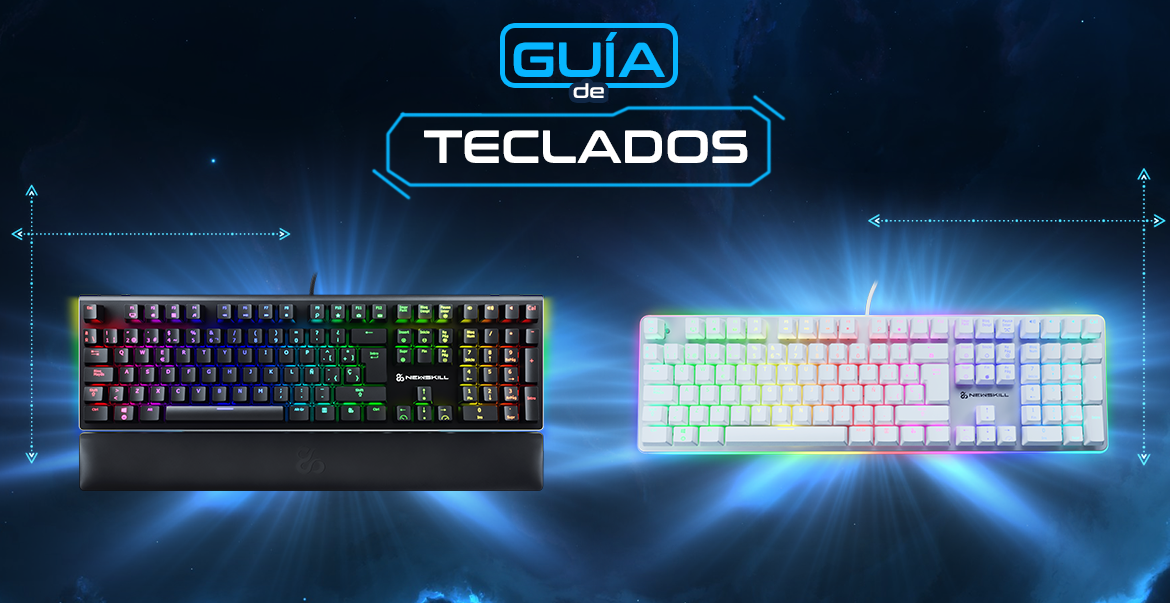 Choose a gaming keyboard is always a difficult task for a gamer. Deciding between a membrane keyboard or a mechanical keyboard is a real dilemma. Not to mention the different types of switches that have the mechanical keyboards. At Newskill we want to put an end to this arduous task, and help you choose the keyboard that best suits your needs. Although we already tell you that, a safe bet will be to incorporate to your set-up one of our gamers thrones.
Different types of keyboards
The gaming keyboards are divided into: Semi-mechanical, mechanics or 60%, in this post we will focus on the latter two.
Mechanical gaming keyboards: main features
These are the gaming keyboards the most popular and not missing in the set-up of any good video game player. They consist of a mechanism of mechanical switches called switches. Choose which keyboard switch type is ours can be a complicated matter, so we will help you select the one that best suits your needs.
On the other hand, the quality of these gaming keyboards makes its price higher than that of the membrane keyboards offered on the market. The technology and assembly of the different types of switches in a mechanical keyboard enhances its quality, which is why its price is somewhat higher than membrane keyboards. However, the durability of a mechanical keyboard is much higher due to its construction.
Although to enjoy a good mechanical keyboard, you don't need to spend a fortune, and for proof of this we have our range of keyboards ranging from Serike TKLwith an RRP of 39,95 euros, passing by SerikeAnd up to Suiko Ivorywhich brings together many extras so you can have everything you need in the same space. We have also recently added white versions of two of our latest keyboards to our catalogSerike TKL Ivory y Serike Ivory, both in the network switch type.
The gaming keyboards mechanical components are characterized by their different types of switches, there is a great variety of them and depending on which one we choose, it will cause a greater or lesser level of sonority, since due to the path that the pushbutton makes, we will obtain another of its main characteristics: the sound that is produced when typing with these peripherals.
Here we tell you about the different types of switches that can be found in keyboards mechanics:
Network switch

considered by many as the best switch for playing video games and ideal if we want to perform double tapping on a recurring basis. It is faster and more sensitive, and the typing sensation is very smooth, its high responsiveness to pressure makes it the ideal choice for those more experienced players who know the position of each key perfectly. Its sensitivity is very high, so it is recommended for gaming but not for typing. It is one of the

keyboard switch types

the most suitable for gaming as it is the fastest for pressing the same key once or twice repeatedly. Their lifetime is usually very high (50 million keystrokes).
Switch blue

ideal for people who prefer high speed accompanied by a louder sound. It is more comfortable and accurate if you need to embark on long sessions of use without resenting your fingers. Perfect for blogging, social media, online magazines... Out of the three

keyboard switch types

is the most suitable for typing, due to its speed and its characteristic sound, which simulates that produced by a typewriter. On the other hand, if we want to be precise in our games, the switch blue is undoubtedly our best choice. Its lifetime remains high (20 million keystrokes)
Switch brown

smooth and balanced performance. Considered the

keyboard switch type

in-between. It is suitable for both gaming and typing. It is characterized by being the quietest switch of all. Like the network switch, it allows you to quickly press one or two keys in succession. It is an all-terrain switch and has a very long service life. Perfect for those who are looking for a keyboard that allows them to perform at their best both in their gaming sessions and in all other activities.
60% wireless gaming keyboards: a revolution on your desktop
The gaming keyboardsare so named because they literally take up 60% of the space of a standard keyboard, with 60% of the keys only. A standard keyboard usually has between 102 and 105 keys and a 60% keyboard usually has between 61 and 62 keys. The right side of the keyboard, which includes the arrow keys and some keys and the entire number pad, is omitted.
This type of keyboard takes up much less space on your desk and has its origin in the gaming world. This type of keyboard is created due to the fatigue that occurs in video game players after long gaming sessions. One of the main reasons for this fatigue is the player's own configuration. Using a 60% keyboard can prevent shoulder and wrist pain because it is easier to adjust the position of the keyboard without colliding with the mouse
From Newskill we also wanted to help all those players with the presentation of our keyboard 60% Pyros, available in both black and our Ivory range. And not only that, but it also has the ability to play wirelessly to further promote comfort in front of the screen
The coolest gaming keyboards
At Newskill we have the mechanical keyboard you are looking for. Here is a table with the differences between some of our models, so you can choose the right one for you gaming keyboardThat best suits your playing style, Skiller:

Comments (0)
No comments at this moment