The Anuki wireless headphones have a lot to offer, so we bring you this complete guide on how to use them, and everything you can do with them. Learn how to set them up correctly, how to control them by touch, how to select noise cancellation or transparency mode, depending on what you need at any given moment, and even how to connect them to your Nintendo Switch, with the console's recent update
Start-up
When you receive Anuki, as with any battery-powered peripheral, we recommend that you fully charge it, always using its specific cabling, in this case the USB Type-C that will come with your new headphones. Charging is done via the charging case, so you will charge the headphones and the case at the same time and, once fully charged, the case will provide charge without having to be plugged into a power outlet
When you connect the charger to the case, the charger's LED indicator will flash red until charging is complete, then it will stop flashing and remain a steady red light. At that point, your Anuki will be ready to use, and the case to fully charge about four more times
Pairing with your devices
After fully charging your Anuki, you can use both earphones or just one, if you prefer. Here's how:
Pair both headphones with your device:
Simply open the charging case (with Anuki inside), and wait for about 5 seconds. After this time, turn on the Bluetooth of your mobile or device, and you should see the option to pair them, under the name of Anuki
If you don't have the charging case with you, for whatever reason, you can also pair your Anuki by holding down both earphones for 5 seconds, until the red and green light flashes, enable Bluetooth on your device, and you can find them under the name Anuki.
Use only one earphone:
Choose the headset you want to use, press on its touch zone for five seconds, until the red and green light flashes. Turn on the bluetooth of your device and search for the name "XG-5.0", in order to pair the Anuki headset
Bonus: Connect Anuki to your Nintendo Switch
Our Anuki are designed to be used in any situation, they are perfect to accompany you while doing sports, to answer any call while walking down the street, but they are also great to play with. Yes, they are great for playing!
And is that, since very recently, Nintendo Switch is compatible with wireless headphones, connected via Bluetooth, and today we want to show you how to synchronize Anuki with semi portable Nintendo, so you can play comfortably, without cable mess, and Anuki always go with you, but always for real. All you have to do to connect your Anuki and your Nintendo Switch is to follow the steps below:
Update your Nintendo Switch to version 13.0.0 or higher
Open the Anuki case to make them appear in your Switch
In the console, go to "Settings" and select the option "Audio via Bluetooth"
After a few seconds, the Anuki headphones should appear for synchronization
To keep in mind when using your Anuki on Switch:
If you connect the Bluetooth headset, you can connect a maximum of only two wireless controllers to your Switch
You will not be able to use the microphone, although Anuki has it integrated, because Switch does not allow it
You will also not be able to use the Bluetooth headset in case you play a local game, at the moment the console does not allow it
Touch control
The touch control options of Anuki are incredibly complete, from controlling the volume, to rejecting calls or skipping songs, as well as choosing between its different noise cancellation modes. Here are the key points for full control of Anuki from the headphones themselves:
Switching on: touch gently for 5 seconds.
Switching off: touch softly for 5 seconds, while Anuki is on.
Next song: double tap on right earphone.
Previous song: double tap on left earphone.
Volume up: triple-tap on the right earphone.
Volume down: triple-tap on left earphone.
Answer call: soft touch on any earpiece.
Reject call: soft touch for 5 seconds on any earpiece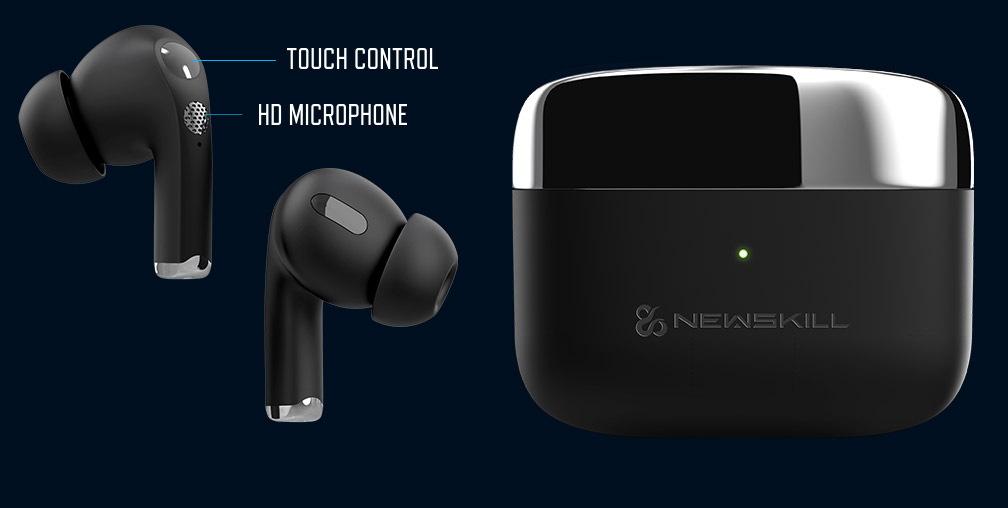 Noise cancellation and transparency mode
Transparency mode: with Anuki running, press both earphones for two seconds, and you will hear a beep. This mode is perfect to get a good sound, without losing detail of what is happening around you, great especially for walking on the street, for your safety
Noise cancellation mode: in transparency mode, tap gently for two seconds on any of the headphones, you will hear a beep and you will have activated the noise cancellation mode. This mode is recommended for answering calls or listening to music, limiting outside noise, but we recommend that you use it in safe conditions, not when you have to be aware of your surroundings
Of course, there is also the option of neutral, or base, mode, with no specific mode activated. When in noise-canceling or ANC mode, simply press and hold for two seconds on either earphone and, when you hear the beep, you will have deactivated the noise-canceling mode.
Control from iOS devices
If you have an iOS mobile, you can also select the noise cancellation or transparency mode, as well as check Anuki's battery level, directly from the mobile's own options. To do this, go to "Bluetooth Settings" and there, select the Anuki information section. Upon entering, a bunch of settings options will appear, including transparency or noise cancellation mode, the ability to select a headset or both, and the option to enable the microphone. Depending on your device, you may see a test on ear cushion comfort and optimized charging for more efficient battery usage
Anuki are all you need to listen to music, answer calls, attend meetings, play sports, and now also play games. One earbuds to control them all, and forget about changing devices, keep them in your pocket and you'll always be ready for any situation.
Comments (0)
No comments at this moment