If you have a Newskill Aura keyboard you are in luck. We've made it our mission to take your set-up to the next level with our user guide for configuring your gaming keyboard. No more fiddling with RGB lighting and individual key assignments. With the customizable software from Newskill, your Aura keyboard will finally have that halo of exclusivity you've been looking for. Take a seat at your Kitsune and pay attention to our Newskill Aura keyboard software user guide
Downloading the software is very simple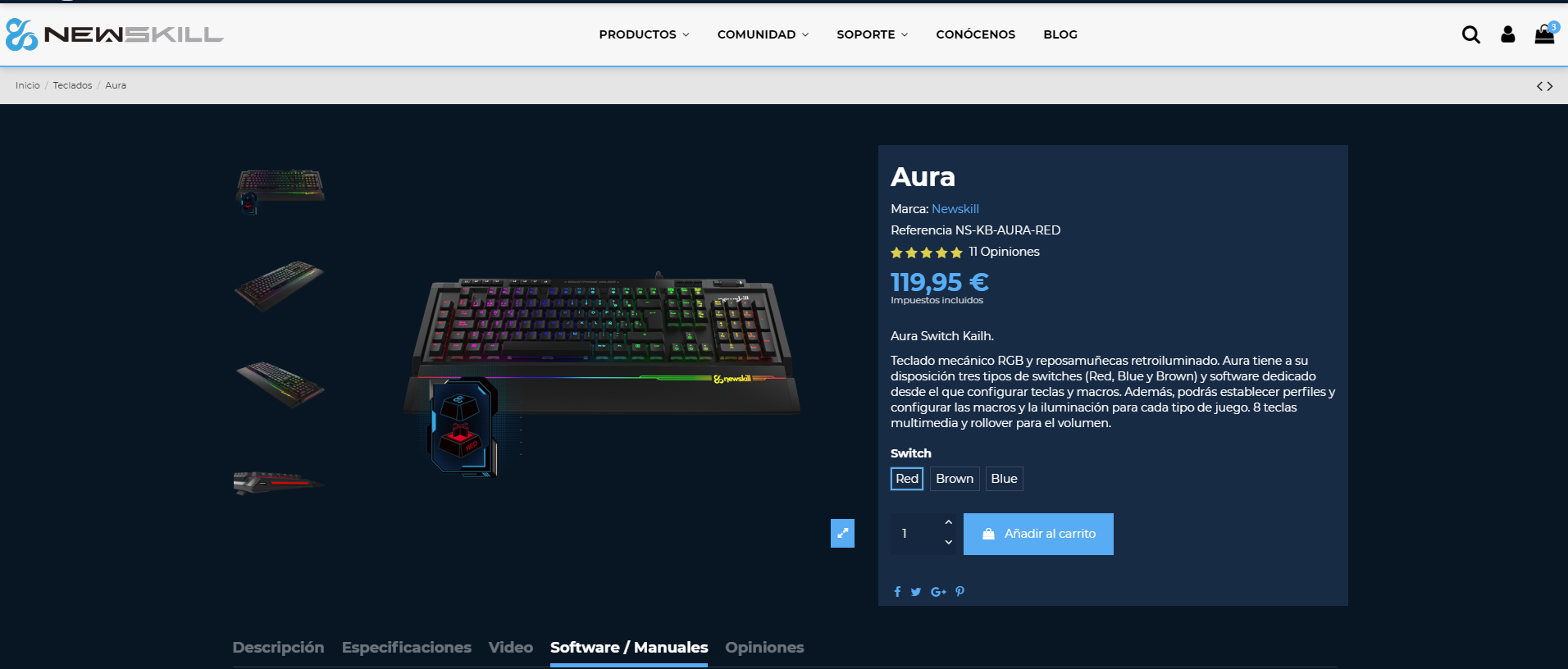 To download the software, go to the Aura product page and select the Software/Manuals section. Once there, click on "software" and the download will start automatically. Once we download the .zip, open it and double click on the file Newskill Aura 1.1.exe and we could start using this tool to manage our gamer keyboard
Select the different lighting modes
We can choose between the twelve backlighting modes that Aura comes standard or create a custom one thanks to the generation of profiles. It will be as simple as clicking on the drop-down that we show in the picture
We can also choose what colors or colors we want the spectrum of light emanating from our gaming keyboard. We will have a palette of colors to create our own mixtures or select a single color. At the click of a button, of course
We can decide what speed and intensity of illumination we assign to our profile by sliding a button that we will find under its description
Our "wrist" will also light up
We will have the possibility of assigning a personalized type of lighting to the wrist rest. Four well differentiated modes: fixed lighting, breathing, single color wave or normal wave mode
As with the keyboard lighting mode, we can also select the speed and intensity of the wrist rest lighting
At the gaming keyboard level, decide the response time (between 2 and 20 ms), the USB rate (125, 250, 50 or 100 Hz) and whether or not to activate the game mode or win lock mode.
Fully customizable
We will be able to save our configurations to change them depending on how we wake up that day. This will be much easier than having to start the configuration from the beginning every day we decide to change the lighting of our Aura keyboard.
Note that of the 104 keys of which this gamer keyboard is composed, 13 of them are dedicated macro keys that can be configured from the section that we indicate in the screenshot
Finally, we can make specific changes to each key by clicking on the picture included in the keyboard software Newskill Aura.
We hope we have solved all your doubts with our Newskill Aura keyboard user guide and we hope your profiles are as attractive as possible, skillers :)
Comments (0)
No comments at this moment