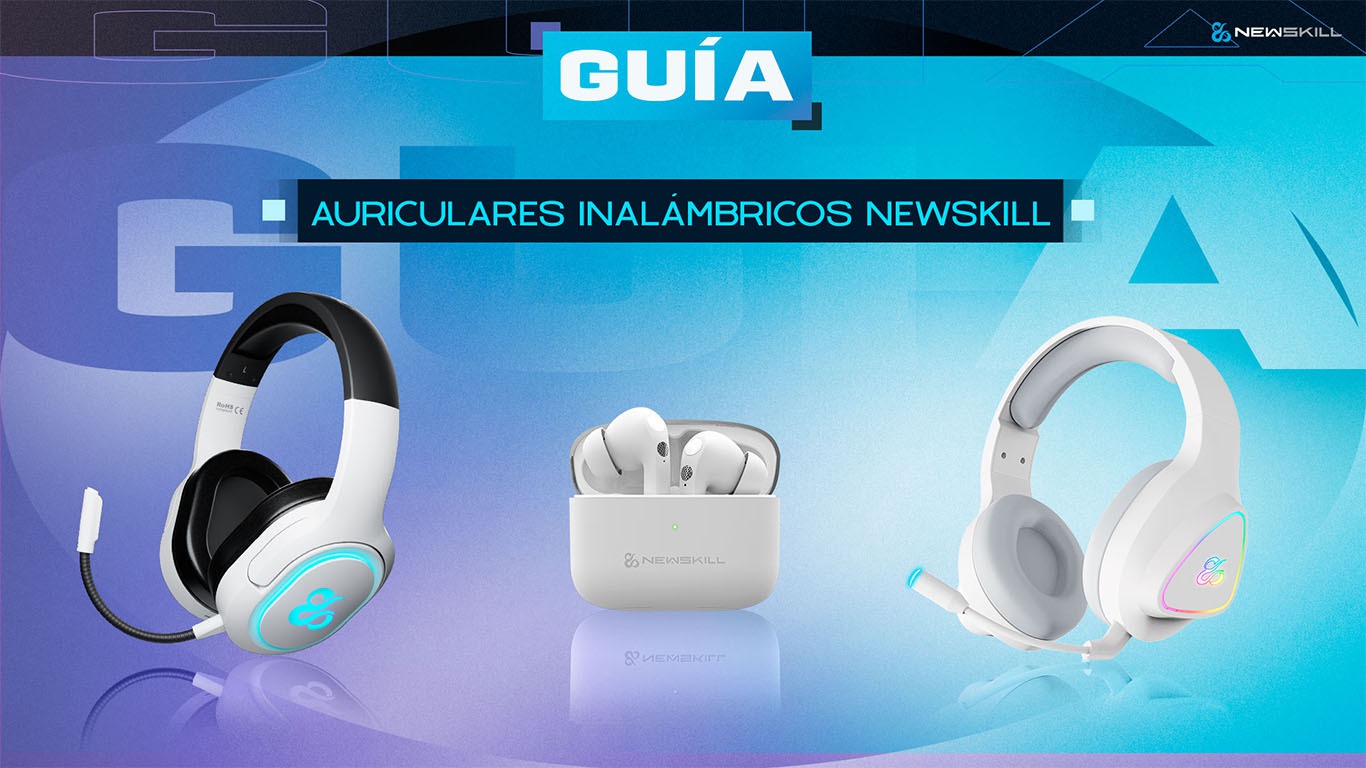 Having a good headset is key to making your games, as well as other day-to-day activities, easier. If we tell you that at Newskill we have a super wide catalog of gaming headsets, and that, among all our models, you will also find wireless headphones what do you say? Don't miss this post to find your perfect wireless headphones
Headphones are one of the most relevant and useful peripherals for many daily activities, whether for leisure, work or study. If you are one of those who are not satisfied with just any headphones, in our catalog you will find the best of the best, in design and performance. Discover a lot of models with different features removable microphone, RGB lighting, Bluetooth wireless connection via dongle, different colors, interchangeable pads...etc. An endless number of options, so that you always have the best means of audio and communication with your equipment at hand
Scylla and Scylla Ivory, complete and comfortable
Our Scylla gaming headset is our first wireless model, and has been with us for some time now, offering comfort and independence to many skillers. Its ergonomic and elegant design, is made of high quality materials, and it has a smooth and stylish finish. Your cushioned ear pads and headband, the new speakers are a comfortable and ideal choice for use in meetings, games or simply to enjoy your favorite music or content in a more private way, or to avoid disturbance late at night.
Its battery lasts up to 12 hours, but you can always connect them to your computer and use them while they are charging, and they are also compatible with consoles, through USB or 3.5" jack. Its illumination can be configured in different colors, and can be conveniently controlled from the buttons integrated in the helmets themselves. They also have of equalizer button, for you to control the sound quality with a touch, while it also features mute button of its removable microphone, and volume roulette
Below, we detail the characteristics of this model:
Weight

345g
Connection type

Wireless / Φ 3.5mm Stereo
Distance of use Wireless

10m without obstacles.
Battery

Rechargeable lithium 1000mAh
Time of use

12 hours with medium volume and lights off.
Charging time

3 hours
Cable length 3.5mm

1,2m
USB charging cable length

1m
Compatible
Wireless: PC/PS4/PS5
Cable: Xbox One/Xbox Series X&S/Nintendo Switch/Smartphone
Speaker
Dimensions

Φ53mm
Impedance

32Ω
Sensitivity

98 ± 4dB SPL/mW
Microphone
Removable microphone

Yes
Microphone dimensions

4.0*1.5mm
Pickup Pattern (Polar)

Omnidirectional
Sensitivity

-42 ± 4dBv/µbar at 1KHz
Scylla y Scylla Ivory are our most complete, comfortable and stylish wireless headphones, so you can enjoy the best sound and match your setup, as they are available in black or white
Seth and Seth Ivory wireless 2.4 Ghz
A new bet in the field of wireless technology, for those gamers looking for a more dynamic design, with the best RGB lighting. A gaming headset of high quality and excellent materials, as in the case of Scylla, as well as padded ear pads and headband
These headphones feature wonderful technology wireless 2.4Ghz, that provides a great wireless experience with a sound quality and clarity spectacular, totally stable. Connect its USB wireless receiver and enjoy total independence, thanks to the durability of its lithium battery, the Seth®, which will allow you to enjoy Seth for up to ten hours, half of that if you're wearing RGB. But, don't worry about this, because you can always use them through its 3.5mm Jack cable, so that you never have to stop doing it
Like Scylla, it also has control buttons integrated into the headset itself, so you can have maximum control of all audio and sound during your game, without having to worry. In addition, Seth is also compatible with consoles that accept 3.5mm jack connection. We leave you all its specs below:
2.4GHz wireless technology
Stereo sound
Removable microphone
RGB Led Rainbow
5V/1000 mAh lithium battery
Headphone diameter: 50mm
Impedance: 20Ω±10%
Headphone sensitivity: 85±3dB
Frequency response: 20Hz-20kHz
Microphone diameter:6mm*2.7mm
Sensitivity: -38±3dB
Battery life: ±5 hours / ±10 hours without RGB
3.5mm jack audio cable
USB charging cable
Enjoy SethYSeth Ivory, in black and white, respectively
Anuki and Anuki Lite, freedom in your pocket
We know they are not exactly gaming headphones, but they are a great option to always carry with you, and if you want, also use them for your games. They are available in two models, and both models in two colors at the same time, black and white
The model Anuki, has a wider range of features, since it has noise cancellation, so that you can focus only on what interests you at any given moment, whether it is a song, a meeting or any other content. On the other hand, for your security, it has a Transparency, this means that you can listen to your music quietly on the street, without losing track of what is going on around you. This is because we care about your safety, and we know that when you concentrate on one subject, you may neglect your surroundings
Anuki Lite, the Anuki Lite, on the other hand, is a more affordable option as it does not have these noise cancellation modes that you really don't need if you are going to use your headphones indoors. In addition, their design is simpler and, while Anuki are "in ear", Anuki Lite are not, because we know that not everyone is comfortable with this format.
Both models share a long battery life and, in addition, its charging case also has a second battery integrated in it. Keep your Anuki in it, and not only will you be protecting them, but you will also have them ready whenever you need them, up to four times fully charged, with a single charge of the case
Control your actions with its touch control, you can also change songs and even accept or reject calls conveniently from the headphones themselves. As you can see, Anuki is ready to accompany you wherever you are.
Play with your wireless headphones Newskill without worrying about the time, and let your games go longer without any problem, because any of our models will accompany you whenever you want. It doesn't matter if you have to change rooms, or just take a break or stretch your legs in the middle of a conversation, because all our wireless headphones have a wide enough range of use that you can move farther away from your PC or device than you think
Discover the convenience and the freedom of independence from wired peripherals, and don't just stick to gaming headsets, take a look at our Pyros gaming keyboard, in any of its versions, and you'll see what it's like to play untethered. And you, will you join the Wireless revolution of Newskill?
Comments (0)
No comments at this moment