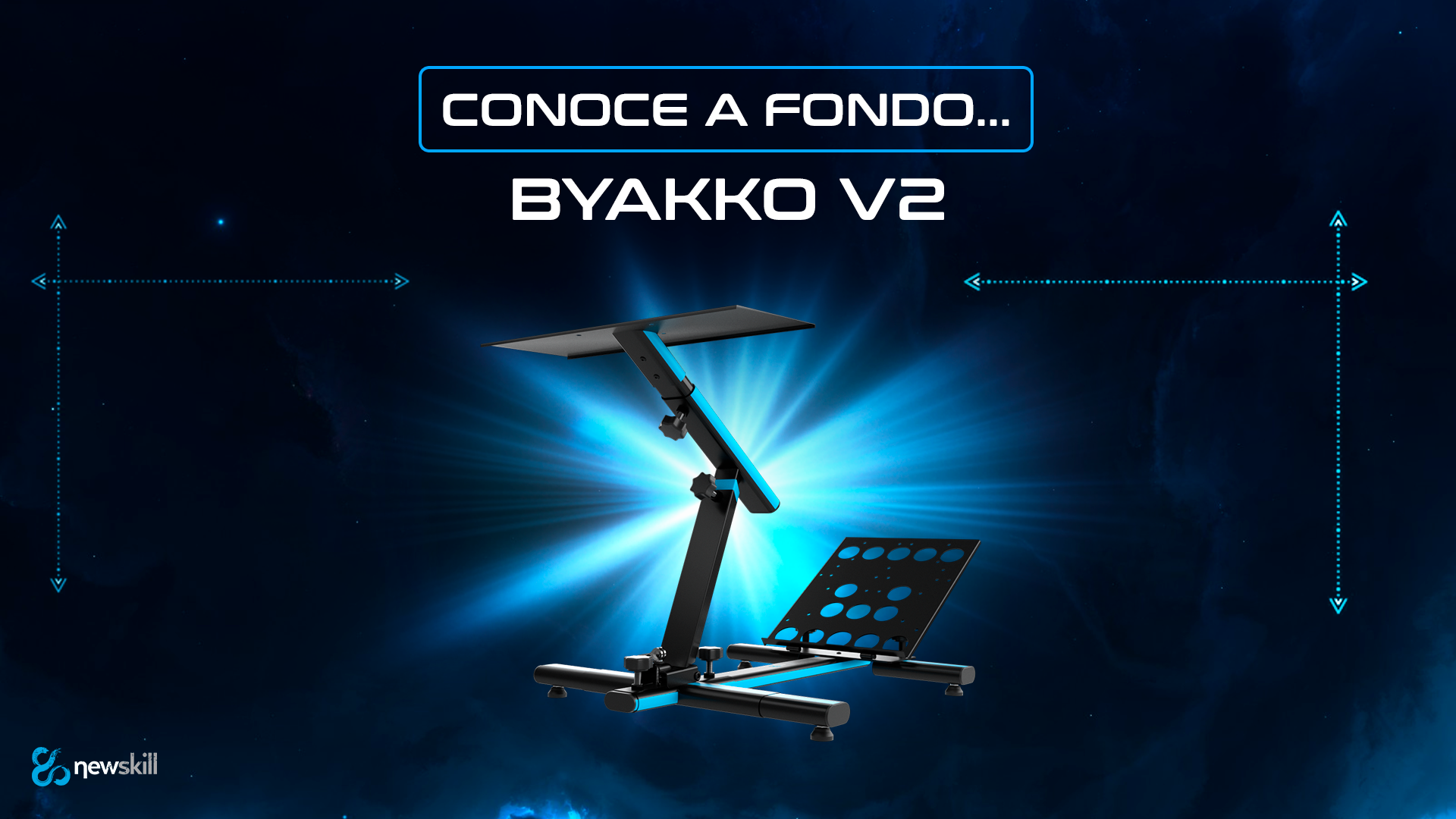 If you are lovers of driving video games you will certainly like to feel that feeling of speed when playing Project Cars, Forza Horizon, Dirt Rally or other works that have caught on among fans of this genre in recent years. It is not the same playing with a controller or with mouse and keyboard than doing it with a good steering wheel that allows us to feel like a pilot of the cars we drive. That's why from Newskill we have thought of you and we bring you the Byakko V2 steering wheel support, compatible with a wide range of steering wheels on the market that will allow you to take your gaming sessions one step further. 3,2,1... let's start!
A new version with gamers in mind
The Byakko V2 steering wheel support model maintains the features that made the first version one of the favorite peripherals of speed fans. Robustness and durability are the main pillars of a product designed to simulate the front of a racing car. In this version 2.0 the design is modified to provide greater stability and firmness, always thinking of the players. In addition, larger bases have been added to make Byakko V2 even more consistent and allow for a much more polished control
A perfect grip
The Byakko V2 steering wheel stand has legs with non-slip supports made of natural rubber that allow the surfaces of our house not to be damaged. The support platforms are larger than in the first version of Byakko, both those located at the feet and the steering wheel. If you are looking for precision and firmness in your gaming sessions, this gaming peripheral is undoubtedly the solution to your problems.

Details that enhance Byakko V2
The great novelty with respect to the first version of the Byakko V2 steering wheel support is the increase in weight to provide greater solidity and comfort in all movements and turns that we make with the steering wheel. It adapts to all types of players, ages and sizes, since the Byakko V2 anchors are adjustable in depth and height. We can adjust from 34 to 53 centimeters in height and from 36 to 52 centimeters in depth. As well as from 29 to 49 cm the position in which we will place the steering wheel in front of us.
For the most crazy of driving, Byakko V2 incorporates an accessory for shifter, so an immersive experience in racing video games is assured. Realism on all four sides. And you won't have to worry about compatibilities with our steering wheel mount. Byakko V2 is compatible with most steering wheels on the market including
Thrustmaster T500RS

Thrustmaster T300RS

Thrustmaster T80 Racing

Thrustmaster T300 Ferrari GTE

Thrustmaster Ferrari 458 Spider

Thrustmaster TX Racing

Thrustmaster Ferrari 458 Italia

Thrustmaster Thrustmaster TE3PA-PRO(F1/GT)

Thrustmaster TE3PA

Thrustmaster T150

Thrustmaster TMX

Logitech G29

Logitech G920

Logitech G27

Logitech G25
And the gear lever bracket mentioned above is compatible with:
Thrustmaster TH8RS

Thrustmaster TH8A Add-On Shifter

Logitech G29 Shifter

Logitech G920 Shifter

Logitech G27 Shifter

Logitech G25 Shifter

DSD Shifter
We hope that the Byakko V2 steering wheel holder will be the complement you were missing to complete your set-up and enjoy driving without limits.
Comments (0)
No comments at this moment