In Newskill we always try to go beyond, to offer you the best of the best in mechanical gaming keyboards. Therefore, we present the Gungnyr range, a series of optomechanical keyboards with interchangeable Gateron switches, also known as hot swap technique. These keyboards are the ultimate in customization
Gungnyr Pro and TKL Pro
The Gungnyr series consists of two models: Gungnyr Pro, with full keyboard layout, and Gungnyr TKL Pro, the "TenKeyLess" model, for lovers of compact keyboards. Two versions of the same keyboard, available in black and white, whose standard Gateron Red switches combine the best features of optical and mechanical mechanisms, to offer you the best performance, with the most gamer clicky feel. To complement this series, and so that you can customize your Gungnyr keyboard, whichever you choose, we have available six different packs of additional Gateron switches, which you can exchange thanks to its hot swap compatibility.
Optomechanical keyboards, all advantages
This series of gaming keyboards is optomechanical, so it uses compatible switches, i.e. optomechanical switches. The great thing about this type of switches is that they combine the best of mechanical and optical mechanisms to give you exceptional performance. Their operation is based on the fact that, when you press each key, a light laser will trigger the action without the need for the switch to touch the keyboard plate, unlike mechanical switches, which require direct contact to react. However, if you are a lover of mechanical keyboards, do not worry, because, as we said, it also retains features of mechanical switches, in this case, the sensation when pressing, so typical of gaming keyboards
This combination of features not only results in higher switch speed, thanks to its light activation, but also in greater durability, since there is hardly any contact between the mechanism and the plate, the average life of the switch is considerably extended
Epic performance
Gungnyr Pro and Gungnyr TKL Pro share their main features, such as configurable RGB lighting, macro recording through software and its incredible magnetized wrist rest, also with customizable lighting, which will make your hands maintain a correct posture, to play for hours without resenting them
You decide whether you prefer the full layout version or the TKL version which, as you probably already know, is a keyboard with all its main functions, but eliminating the numeric pad to save space in your setup. That's really the only difference between Gungnyr Pro and Gungnyr TKL Pro and, of course, both models are available in Black or Ivory version, classic black or elegant white
Infinite switch combinations
In addition to its great features and performance, a great thing about the Gungnyr series is its interchangeable Gateron switches, or hot swaps. This is so important because the keyboard itself comes ready to make switching switches easy and safe, so you can customize it as much as possible. As standard, the entire Gungnyr range comes with red switches, but we have released six additional packs, with 20 pieces each, so you can make infinite combinations
In the table below you can see the differences between the different switch packs: red, brown, blue, yellow, white and black. Each color will give certain characteristics to the key where you place them. Choose the speed of action, the feeling when pressing or the sound, depending on the main use of your keyboard. If you play titles of different genres, you will be able to make combinations of switches for each one, and you will improve your skills a lot.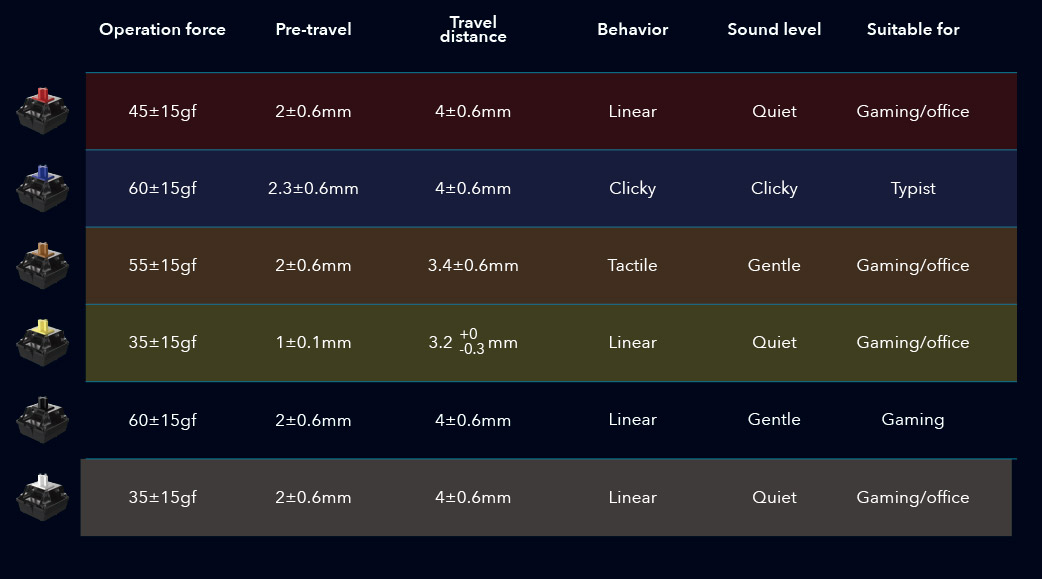 Put a Gungnyr in your life, and you will have all your dream keyboards in one.
Comments (0)
No comments at this moment