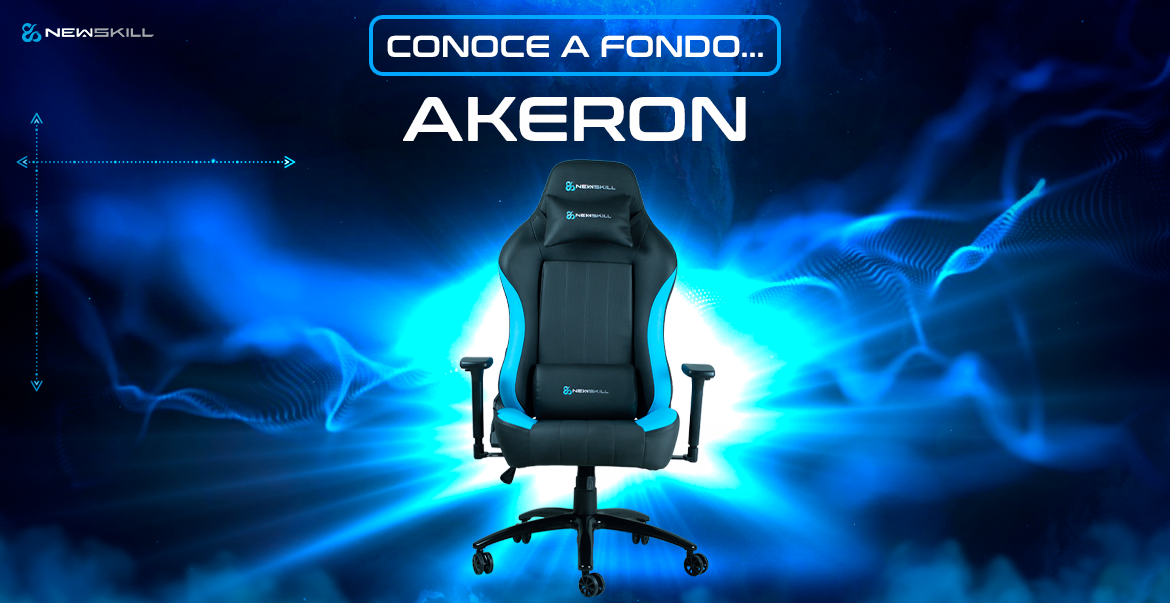 Today we bring you a new edition of our "Get to know in depth..." post series. It is the turn of another of our new chairs, we want you to have no doubt about them so we invite you to read on to learn more about one of our most robust and spacious gaming chairs. Welcome to Get to know Akeron.
A sturdy armor for your game
Often when we approach certain models of gaming chairs gives us the feeling of having a very narrow seat, especially due to the origin of these models of chairs, based on racing car seats that what they seek is to keep you glued to the seat and do not move the slightest. At Newskill we are aware of this situation and that is why we like to offer models for all tastes, the new gaming chair Akeron has a seat 50 cm wide so you can lose yourself quietly in your seat.

Point to point
Another strong point that sets Akeron apart from other gaming chairs is that virtually the entire surface of the backrest and seat is micro-perforated. Thanks to this small detail we will get a greater perspiration with what our thermal sensation will be much more pleasant. This detail, although it will be appreciated more in some regions than in others, is always welcome wherever you play.
Akeron has been designed with a reinforced steel structure, this will provide you with much more security at all times and the stability you need when the game gets more tense to hold every move well.
Of course, Akeron also features a 180-degree reclining backrest. All this set of options will make that between games we can rest almost as if we were in our own bed. Naps in Akeron are wonderful, you have to try them.
A base to match
As with all our chairs, we pay a lot of attention to every detail, that's why our Akeron gaming chair has a class 4 gas spring capable of supporting up to 150 kg fitted on a reinforced metal base in the shape of a five-pointed star and 63mm wheels coated to protect virtually any surface without losing your freedom of movement.

All the options at your fingertips
Finally, Akeron is available in blue, red, green, white or black so you can choose the option that best suits your personality and your set-up, plus you will have at your disposal both a cervical cushion and a lumbar cushion to accommodate you in your chair and avoid fatigue and tension after long days of play.
Akeron is now available on our official website at a price of 169,95€. If you have any questions about the measurements of the chair, you can consult the table below. We hope we have been able to help you to know a different option of gaming chair more robust and spacious and of great quality.
Comments (0)
No comments at this moment