After the success of our Fenrir gaming tables and the spectacular Tanaris, with its elevating Pro version, comes Anhur, a new model designed to make your entire setup stand out, with impressive RGB lighting and, for the first time, in two fantastic colors: black or white.
Room for everything
Anhur RGB is designed so you can comfortably place all your peripherals on its large 120 x 60 cm surface. We assure you, this size is perfect for your favorite components to be organized and always at hand. In addition, Anhur RGB has a great mouse pad that covers it completely, so you have total freedom of mouse movements, and forget about having to find another mouse pad that fits your peripherals and their size
Great material structure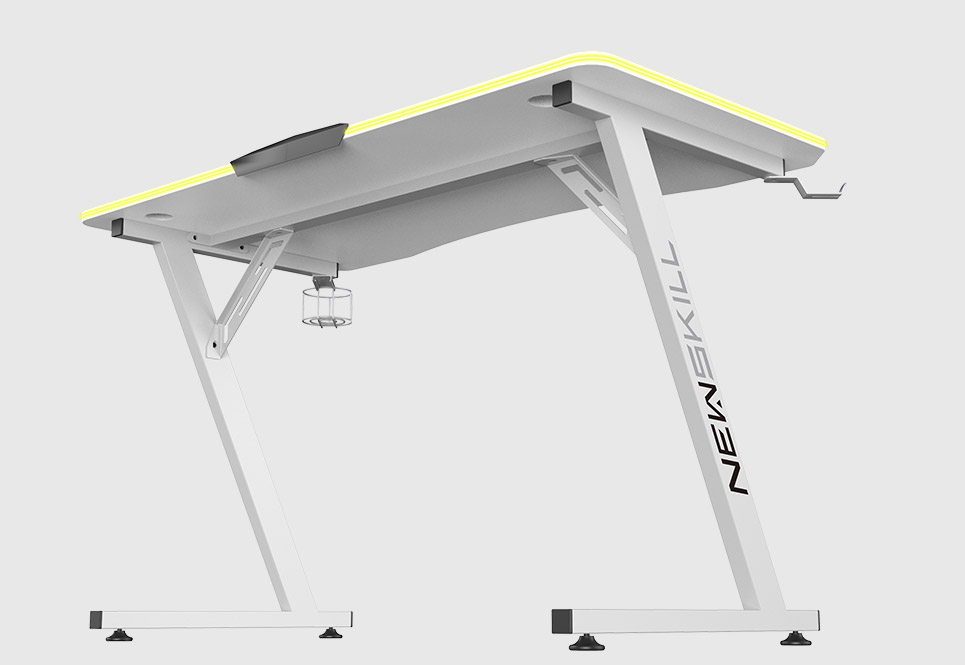 Lightweight, compact and sturdy, this gaming table is the ultimate in components for your setup, and a super sleek way to give that professional touch to your gaming space, because it also simulates the look of carbon fiber. Although it is a very robust gaming table, its weight will help you to move it easily if you need it, and assembling it will not be a problem, because it is super simple and intuitive, but do not worry if you do not have especially developed the skill of assembling furniture, you also have the manual on our website. Enjoy total stability and unlimited comfort with Anhur RGB
Anhur, the full equip table
What differentiates a table from a good gaming table are, without a doubt, its extras. Those little things that are not essential, but make you excited to have them, and maximize the comfort and utility of your new table. We are talking about the coaster and the headset holder included in Anhur RGB. When we say that with this gaming table you will have everything at hand, it is "everything", including your refreshment for the most demanding games and, in addition, forget that it can spill, because to avoid these scares, it is located on one side of Anhur. Likewise, you will also have a support for headphones that, being on the other side of the table, will allow you to save space on the table surface, to have more space and play without limits
The pro touch
Yes, the pro touch is undoubtedly what you have in mind: lighting. Because, it's not essential but... why shouldn't you have it? Yes, Anhur RGB includes lighting around its contour, fully configurable with seven available colors. In addition to the possibility of leaving any of these colors in fixed mode, and give an atmosphere according to the game you are playing, you can also configure its breathing mode, that soft on and off progressive on and off that hypnotizes. To finish off the aesthetics of Anhur, the logo of Newskill runs through part of its structure, and is also present in the mat that covers its surface, both in the black version, as in Ivory. Anhur RGB is the table for skillers looking to play in total comfort and style.
Comments (0)
No comments at this moment