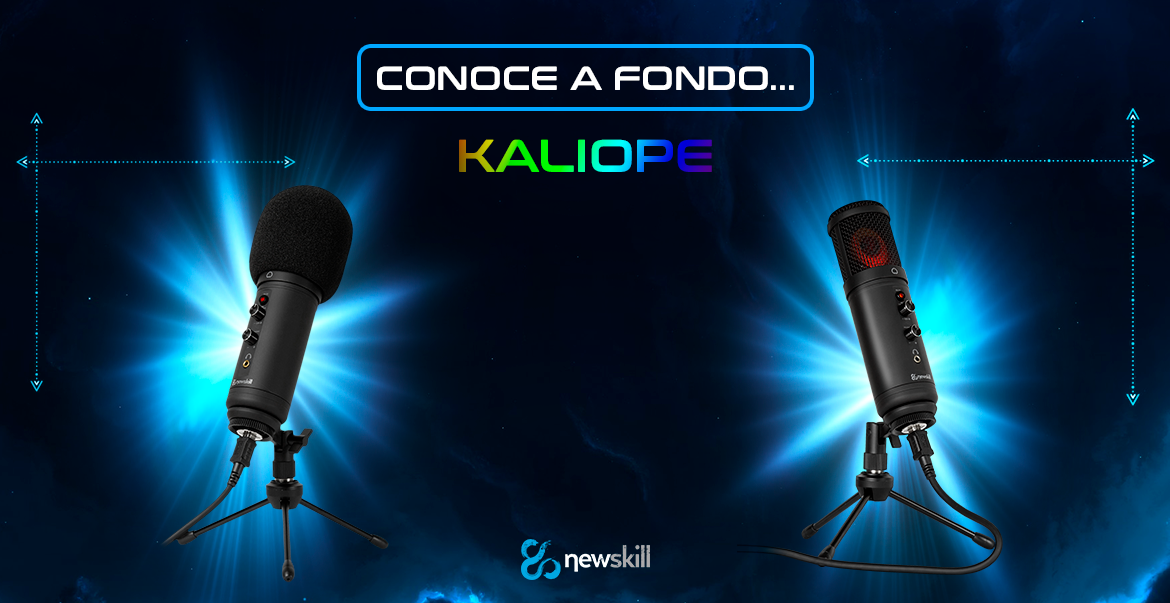 Today we want you to know more about our professional RGB gaming microphone dedicated to gaming and podcasting. If you want to renew your set-up so that your colleagues can hear you in detail and increase your skill or your podcast reaches loud and clear, Kaliope is your best choice.
Luxury exterior
Let's start by talking about its exterior, which will be the first thing we see when we take it out of its box. Our Kaliope professional RGB gaming microphone is made of metal so we get a greater security and stability in the product and also, its matte black finish gives it that extra touch of elegance. On the front of its body you will find the "on the fly" controls that will allow you a much more direct and intuitive control, we have dispensed with the software configuration and opted for the plug and play current so that with the simple gesture of connecting the cable to its port we can enjoy everything that Kaliope offers. Thanks to this configuration you can instantly change the volume, mute the microphone or select the color you prefer at that moment, among many other options.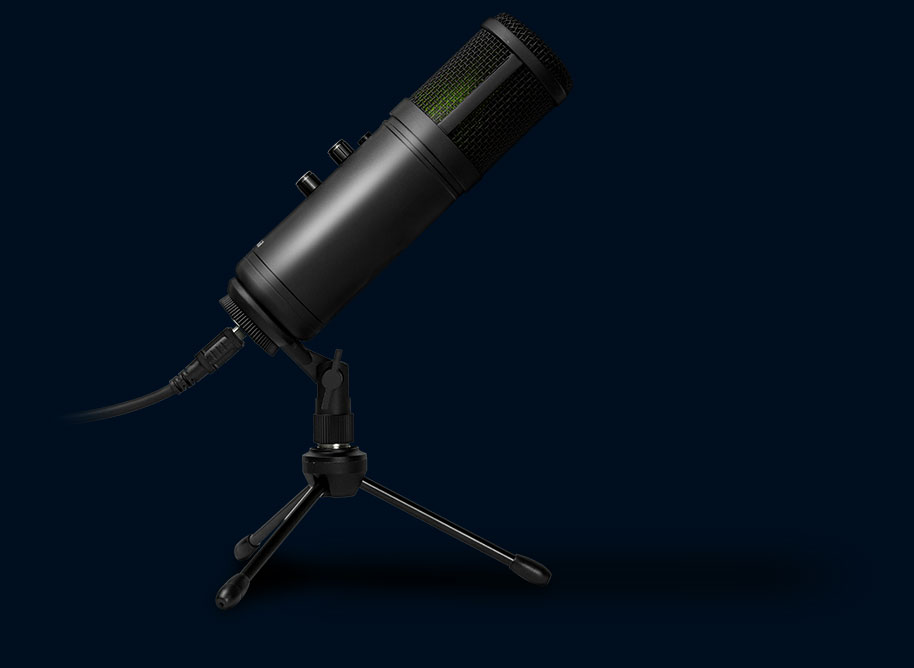 With a height of 270mm with the tripod and a width of 175mm, our new accessory will fit perfectly anywhere on your desk. In addition, we've equipped the microphone with a 1.8m USB-B to USB-A cable for added convenience and a 3.5mm jack port so you can play back any recording live with the highest sound quality.
Simplicity and professionalism
As for its operation, we have already mentioned that our professional RGB gaming microphone works with plug and play, so when you install it, it will appear on your devices and you will not have to configure anything else. Kaliope has three buttons on its front, the first one we find, starting from the top, is the mute, if we find the red light is that the microphone is open, if on the contrary flashes, we will have activated the mute.
Just below is the wheel for gain, as is logical, the higher the gain, Kaliope will pick up sounds at a greater distance, to prevent extraneous noise from entering and eliminate interference we have chosen a unidirectional or Cardioid reception pattern. In addition, it includes an anti-POP filter with which you will get that extra quality plus in all your recordings by eliminating the annoying noises of explosive type produced when speaking.
The last button we find on the front, is the wheel to adjust the volume of the headphones, and just below the 3.5mm jack port to connect them. Using this function we will be able to listen in real time to what we are recording without latency, being able to choose between listening only to our voice or also to the audio output of the computer.
RGB customization
Finally, the new backlighting system of the professional RGB gaming microphone allows you to take the synchronization of your set-up one step further. You can switch from its rotating color effect to its fixed mode with any of the five available colors. The same wheel we use to raise or lower the gain allows us to control the RGB lighting by pressing it. With a click we can jump from one color to another or select the rotating mode. If on the other hand we are not very fond of RGB lighting we will also have the option to turn it off.
More in depth
If you want to know more opinions about our professional RGB gaming microphone, you can find in-depth reviews on specialized websites, such as Akihabara Blues, Hardzone o El Chapuzas informático.
We know that acquiring a peripheral of these characteristics without having any reference of its audio can throw you back, that's why we bring you here a sample
A check on how our Kaliope performs on a daily basis, here we have Escardi also testing it for his videos.
Comments (0)
No comments at this moment