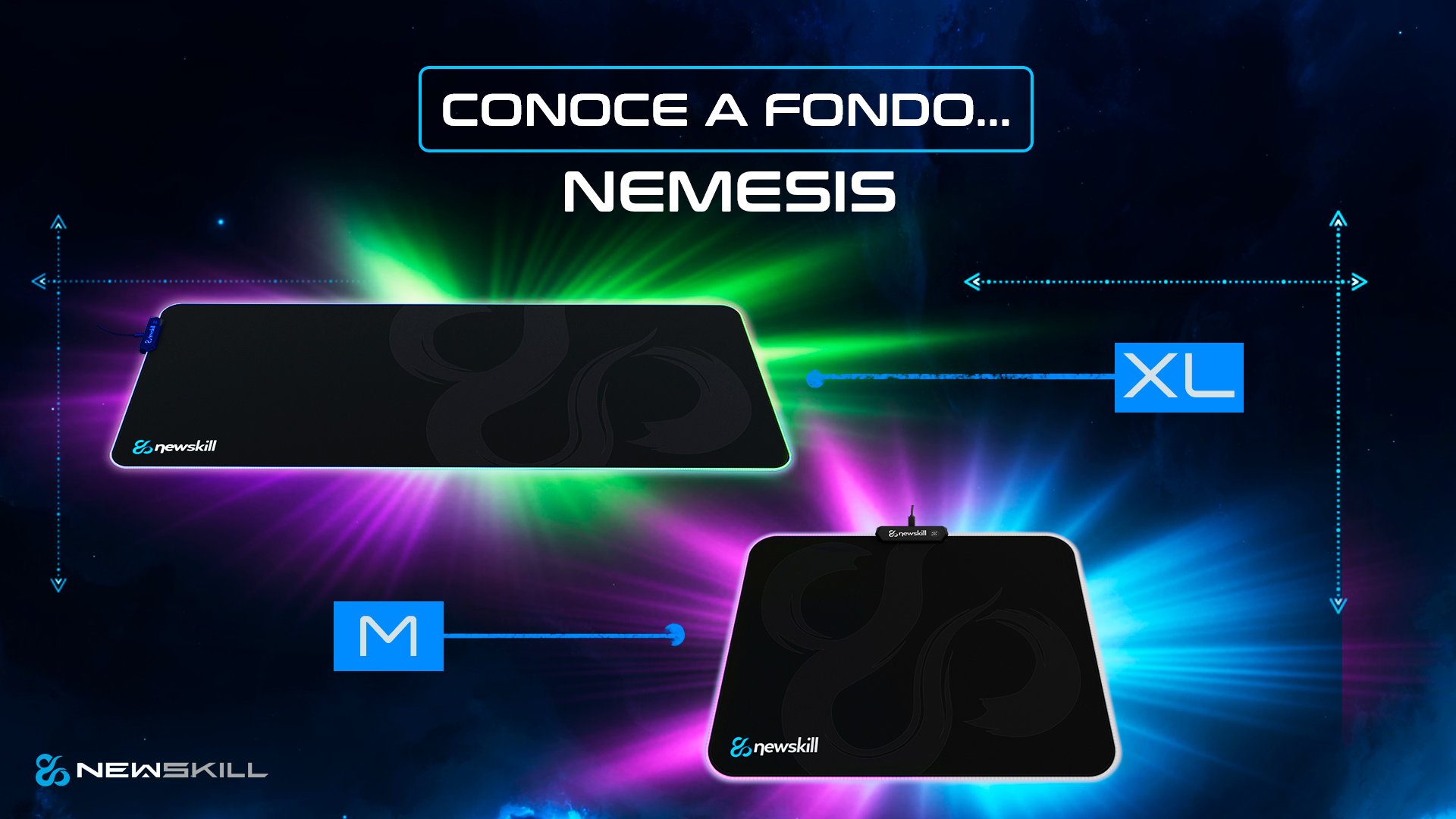 No doubt you will have a gaming mouse pad in your set-up. Your mouse moves well on it and you have a feeling of security with the control it gives you. But maybe it is already too old or you want to give a new look to your gaming table. From Newskill we want to introduce you our rgb gaming mouse pad Nemesis. Will you join us to meet the future best friend of your mouse in depth?
Nemesis offers control and precision
This new mouse pad offers gamers (like you) a surface of extremely fine pressed microfibers to glide at higher speeds without losing any precision. It also has a 4mm natural rubber base to put an end to the annoying displacements that often ruin the most frenetic moments of the game and cause you not to obtain the desired victory
RGB lighting for all budgets
The rGB gaming mouse pad Nemesis is the perfect balance between quality and price, with a finish that is difficult to match by other gaming peripherals suppliers. Its RGB system presents a spectrum of seven colors, among which you can choose, for example, blue Newskill or go fluctuating between the color effects available. It is backlit all around the base and one surface and features seven colors and three color effects
Breathing
Sector rotation
Spectrum color rotation
You will be able to control the lighting and jump from one effect to another directly through the same mouse pad by means of a physical button located in the connector area. On this occasion we have dispensed with the classic "Rainbow" effect to introduce other effects such as the "Spectrum"for example.
The ultimate gaming mouse pad
This is one of the first rGB mouse pads fully flexible fabric with extremely extremely fine pressed microfibers available in two sizes (medium and extra-large) extra large) that arrives in our country. Designed by and for gamers, it has a micro USB and a a micro USB and a two-meter long cable to connect it to your computer and ensure the your computer and ensure comfort to your games.
We hope we have helped you in the long process of renewing a complete set-up and we hope you have liked our latest rGB gaming mouse pad as much as we did.
Comments (0)
No comments at this moment