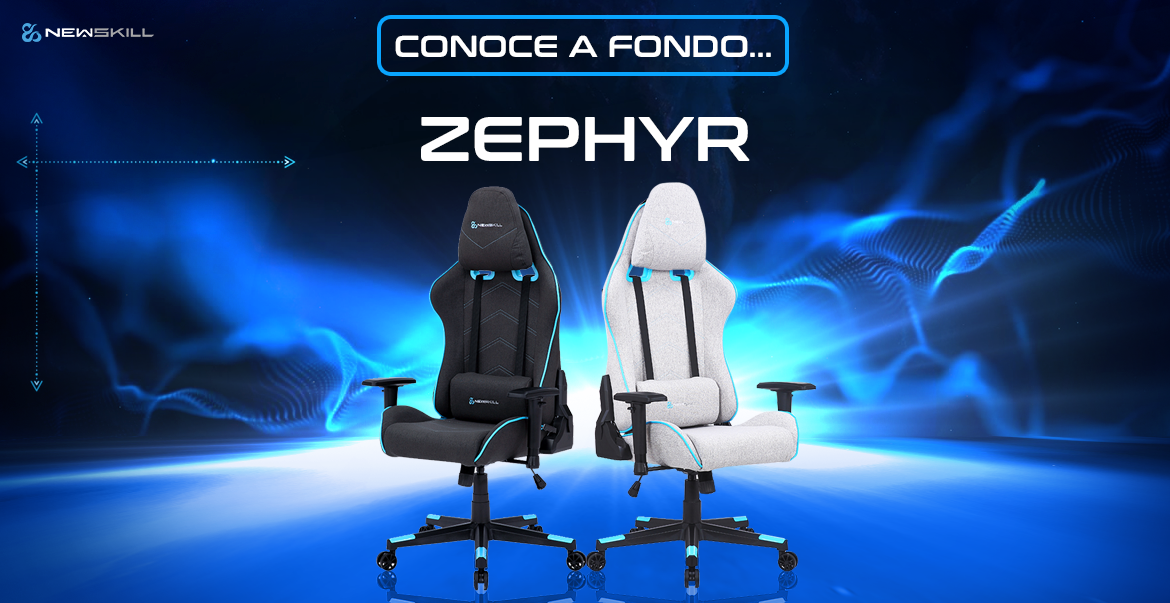 We are aware that you have been waiting for a new chair from Newskill for a long time. And that is why we have prepared a totally different model within our family of gaming chairs. If you are looking to renew your chair or if it is the first time you are thinking about getting one, Kitsune Zephyr will make you fall in love. It is the first gamer chair from Newskill finished in fabric and allows a perfect breathability for any time of the year. What are you waiting for?
A more than worthy legacy: Kitsune
The Kitsune Zephyr gaming chair is the new version of our popular Kitsune chair. It is based on the original model but presents a whole series of features that make this new model an option to take into account. It maintains all the virtues of Kitsune and incorporates other functionalities such as its high quality soft fabric finish. It is now available in ten color combinations and offers never-before-seen breathability for long gaming or study sessions
Ultra-breathable fabric finish and a new range of colors
Kitsune Zephyr is here to stay and it does so with a fabric-finished surface focused on enhancing your gaming sessions thanks to the breathability offered by its ultra-soft fabric made of premium materials. Increase the lifespan of your Kitsune Zephyr gaming chair and feel the comfort it offers. The leatherette finish of the other models of our well-known family of gaming chairs is and will continue to be acclaimed among our followers. With Zephyr Kitsune we think of you and we want to avoid that possible sweating that occurs in the hottest months of the year
Custom fit Kitsune Zephyr to your needs
Our new fabric gaming chair maintains each and every one of the strengths of the original Kitsune chair: cervical and lumbar cushions, 180º reclining backrest, adjustable armrests, class 4 piston and an ergonomic design
Variety is the spice of life: 10 color combinations
Kitsune Zephyr comes in two base color variants combined with our characteristic classic colors. The Zephyr chair model is manufactured from the colors "space black" and "daytona gray" combined with variations in each of them: red, blue, black, white and green. Variety for all types of players designed by and for fans of video games and gaming in general.
Newskill Kitsune Zephyr is now available on our official website at a price of 149.95 euros.
Comments (0)
No comments at this moment