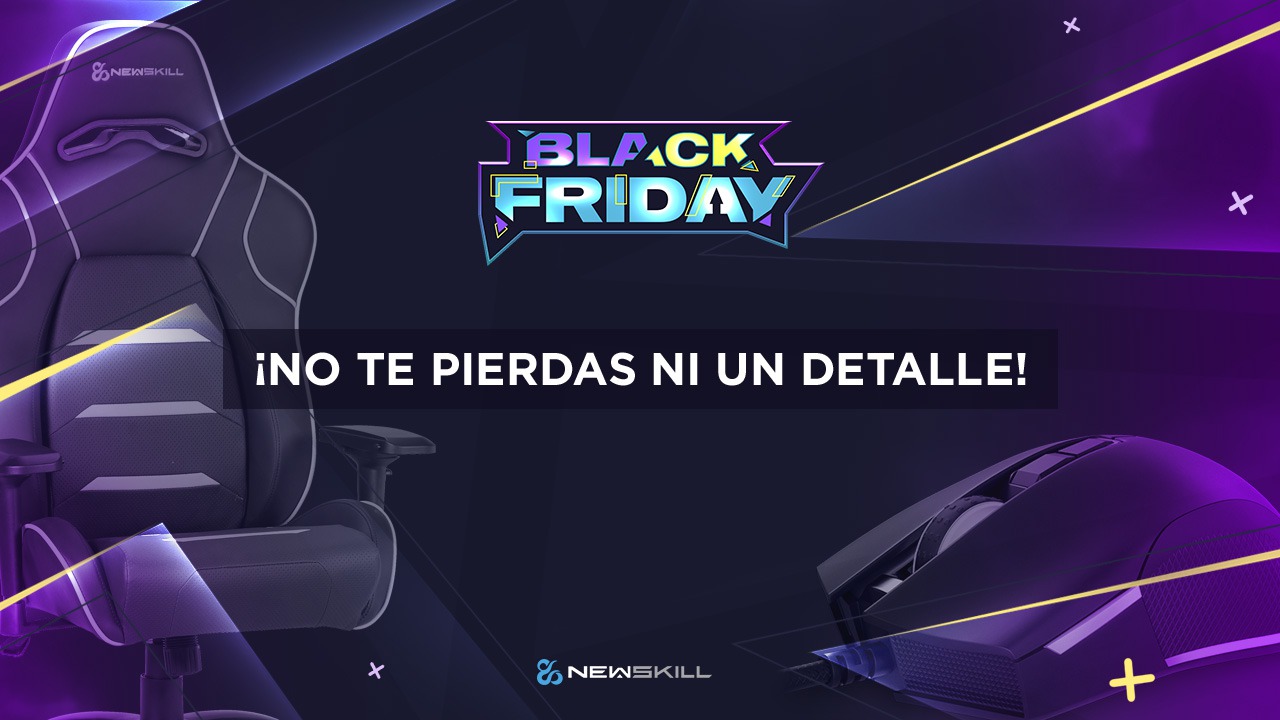 Black Friday 2019 is about to arrive at Newskill. Many of you will have this date marked on your calendar... and rightly so! As every year, the best discounts of the year on chairs, keyboards, mice, headphones and much more are coming to our official website. Do you want to know more about this special date?
what is Black Friday?
Black Friday is the day of the year when online stores (and physical stores) offer the best discounts of the year in their catalogs. It takes place on Friday of the fourth week of November and has its origin in the United States. It is celebrated the day after Thanksgiving Day and is the starting signal for Christmas shopping. It is a very special day for many people, as they can buy gifts for Christmas and Epiphany (in Spain) in advance saving money. Black Friday 2019 promises to be one of the best Black Fridays ever and at Newskill we have many surprises in store for you
when does Black Friday start and when does it end?
Black Friday 2019 will kick off at midnight next Sunday, November 24. From 00:00 hours on Monday 25 you will have available on our website the best discounts on gaming peripherals. Ahead 7 days of discounts and many surprises from the hand of our ambassadors Spursito, Missandie and MerySoldier
The end of Black Friday 2019 will be marked by the beginning of Cyber Monday. You will be able to enjoy discounts and challenges until Sunday, December 1 at 23:59. From that moment we will end Black Friday and welcome Cyber Monday
The best products for Black Friday
We can't tell you yet which products we'll be discounting during Black Friday 2019, but we can assure you that you'll have at least one product from every category on our website. It might be the perfect time to renew your chair or buy that gaming headset you've been missing. You don't need to worry about what day of the week you live in, at Newskill we wanted to make shopping easier for you during Black Friday and that's why we will keep all the selected products on sale during those 7 days
A Black Friday full of challenges and gifts
Our Black Friday 2019 will have a very special feature. Attention to Monday, Wednesday and Friday. Our ambassadors Spursito, Missandie and MerySoldier are preparing a challenge to surprise you. What will be at stake? To find out you will have to keep an eye on their publications on social networks, but we already anticipate that it will be worth the wait
On the other hand, we want to reward your trust in us. Every day we will give away a different product Newskill for every order placed on our website. 7 products for 7 days, each one exclusive for the selected day. We want you to trust us this Black Friday 2019 and come back whenever you want to feel like a skiller more
If you want to be informed of all the news that will take place next Black Friday 2019 you can subscribe to our newsletter to not miss anything. The units of the discounted products will be limited and there will only be room for the fastest ones.
Comments (0)
No comments at this moment