In Newskill we dive into the new interactive horror proposal from Supermassive Game and Bandai Namco. Man of Medan is the first episode of The Dark Picture anthology, the spiritual successor to Until Dawn. We settle into our newly released Newskill Valkyr and get ready to hit a few jumps with the sults they have prepared for us. We begin our review of The Dark Picture: Man of Medan.
The horror genre is something that never goes out of fashion, whether in film or in the world of video games, is a genre that attracts many people. We like to "have a bad time" for a while and then laugh and talk about it with our friends. With Until Dawn we were already presented with an experience that combined cinema and videogames very well, offering us an interactive movie full of clichés of the genre that delighted many fans.
Now we find The Dark Picture and its first episode Man of Medan, an experience that repeats the formula already offered but more condensed, in about 4 hours you can finish the story, but also goes on sale at a very reduced price. The idea of the guys from Supermassive Games is to bring us an episode every 6 months and exploring different subgenres of horror. In this first installment we will find a story of ghost ships mixed with other genres that we will not reveal.
A good movie to play
After a short introductory sequence, which serves as a tutorial, we are introduced to our five protagonists, a group of friends who go out on a boat to dive and find a mysterious ship. What happens next will surprise you. In general terms, the story is not a marvel that will revolutionize the genre but it more than fulfills its mission thanks to the camera angles that remind us of the first survival horror and sound effects that will make us enter into tension on many occasions. The mystery that we pose is simple but very effective and hooks us to know what is behind everything that is happening.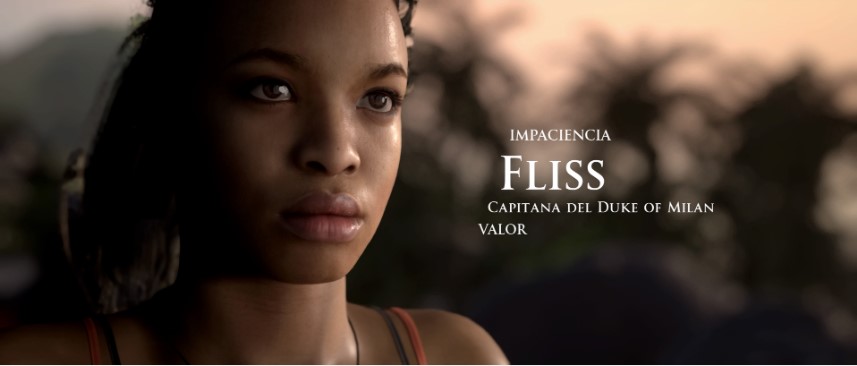 The characters, however, have not convinced us so much, we have seemed a little flat and somewhat bland and with the somewhat slow start that presents the game would have been appreciated and would have become less heavy some more personality on their part, to identify with them or to catch them mania and really worry about trying to save them all or make him die that we dislike. In this aspect the game presents a good component of replayability as all characters can die or live according to the decisions we make and unlock achievements if we get them all to survive or none of them among many other situations.
A gameplay beyond expectations
As for the gameplay we will find the typical QTE's with a limited time to react, sequences of pressing at a certain time according to the rhythm that we mark or ask us to point in certain areas and press the corresponding button. Our new Arkadia gamepad has saved us from more than one dangerous situation. We can also explore some scenarios or move through different rooms checking the points of interest that we find. Generally the areas are quite linear but if we explore a little we will find collectibles that will give us clues about what may happen in the future. One aspect that has caught our attention is the movement of the characters, a bit rough and rigid, being unnatural when moving.
Apart from the classic story mode, in Man of Medan we have two multiplayer modes. One local for up to five players, Movie Night, and another online cooperative mode called Joint Story. In the latter we will control a character while our friend controls another, in the same scene or parallel situations where we will be living the same situations but each from the perspective of one of the characters.
The other mode, Movie Night, is a local cooperative of up to five players in which each of us must choose a character and when it is our turn, the game will alert us to take control and make decisions about what is happening at that moment.
Visually terrifying
It is time, in our analysis of The Dark Picture: Man of Medan to move on to the graphic and artistic section. Visually it is a game that stands out a lot, the modeling of the characters, expressions and environments that surround us are recreated with a lot of work and sometimes reach the photorealism. Something that has weighed us down a little experience are the stops, the FPS drops that we suffered at specific times or late loads of textures, although we have no doubt that this will be resolved in a patch as soon as possible. Something to note is that the game comes fully localized and dubbed into Spanish. A fundamental aspect to fully enjoy all situations and not miss any detail
To finish
The conclusion of our analysis of The Dark Picture: Man of Medan is that it is a very peculiar proposal that will delight fans of the horror genre and that can get people not very fond of it to get into this genre for its playable proposal and the local cooperative component perfect for a night out with friends. Its short duration can throw back more than one but that's why it also comes with a reduced price, in addition, it has a wide replayability if you want to know all the possible stories in depth.
Strong points
Interactive horror movie where decisions really count
Different cooperative modes
Spectacular graphics
Typical story but that hooks you
Points to improve
Characters a bit flat
Technical issues with FPS drops and texture loading
We have made this review thanks to a code provided by Bandai Namco
Comments (0)
No comments at this moment