We have always liked "space shooters", games like Starlink, Galaxy on Fire, Dimension Drive, among others, had the "cushion" ready to receive this great installment of the developer Deep Silver Fishlabs. Chorus is a spaceship shooter with touches of exploration for all platforms that will delight any fan of this genre.
A story that will catch you
As soon as we start the game we meet Nara, an excellent pilot defector from what seems to be a space sect quite similar to the "empire" in Star Wars. Throughout the missions we perform for "the resistance" we discover that Nara tries to redeem himself, and even take revenge for the atrocities ordered by his former mentor. Soon after we meet the artificial intelligence of his former fighter called Forsaken which is somewhat moody, vindictive and loves being who he is, a killer fighter (although with that cocktail we would have liked him to have a somewhat more sarcastic personality but, although he is intelligent, he still behaves entirely like an AI). Put like that it seems somewhat typical, but the story is well told, the characters are coherent and being able to hear Nara's thoughts and reflections during the various missions and memories that we unlock makes us empathize with her and want to know what happens at the end of the game that will take us between 30 and 35 hours to complete (not counting all the side missions of course)
The graphics comply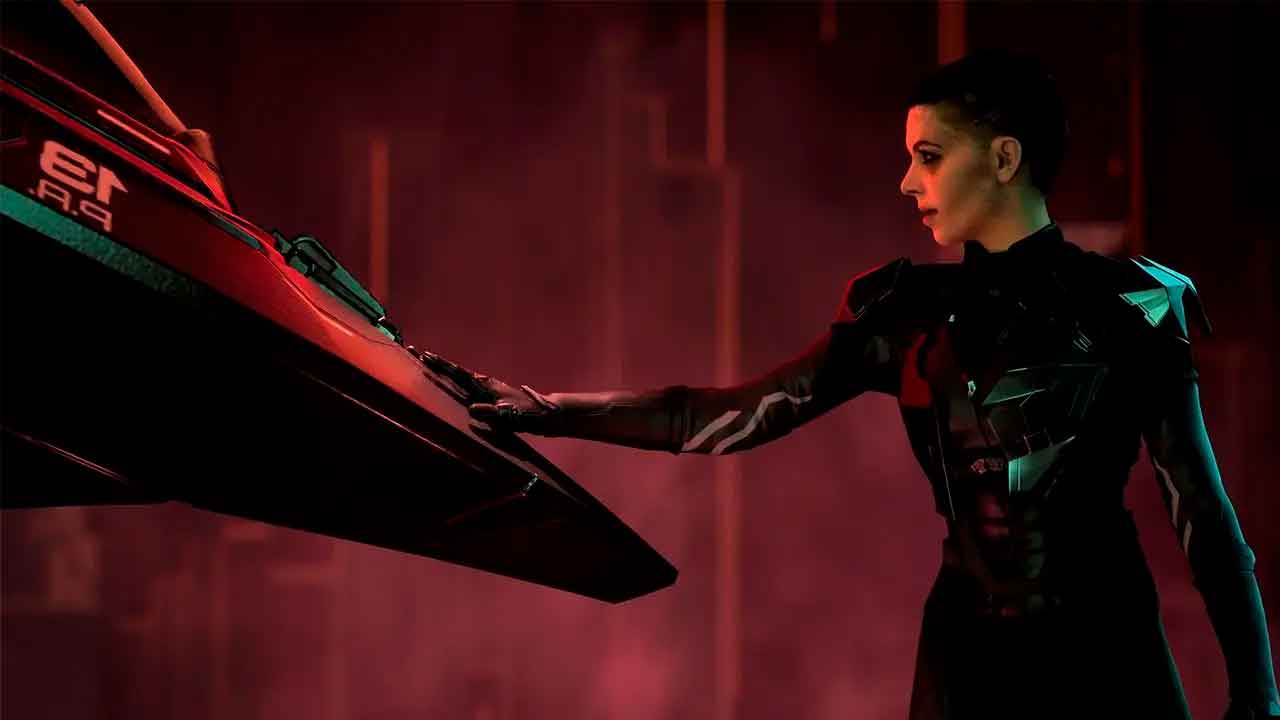 In terms of design and graphics, it is a nice game, reminiscent of Galaxy on Fire (created by the same German developer) even reminded us of games like Eve-Online as far as appearance is concerned. Nara is very well designed and you can see that they have spent time to give her personality, but she will be the only character with those finishes you see in the game, but within the story it makes sense, so you won't notice that she doesn't stand out at all.
Its strong point: the gameplay
Let's talk now about the gameplay, the most remarkable thing about Chorus without a doubt:
When we talk about "third-person space shooters" automatically comes to mind the overwhelming feeling of going around looking for your enemies trying not to collide with your surroundings because, obviously, we lack the peripheral view that reality gives us. But this Chorus tries to solve it in a very intelligent way and it is by means of some "special powers" that Nara develops called "rites". These Rites will not only help us in the battle but also in the different puzzles that we will have to solve to advance in the history.
This may seem that "facilitates too much" the battles but when dozens of ships come for you believe me that they are very useful and in the game, even in "facial" difficulties, piloting is complicated. The first rite you have by default is a kind of "sonar" that locates objects that others can not see. it is extremely useful if you get lost or if you are looking for a clue to a puzzle. The next one to be unlocked is one that lets you drift, that is, you can stop your ship to better target your enemies, it seems silly but usually the ships can not stay in zero gravity or "drift" in the middle of a fight, well used, this rite is the most useful. Then we acquired a pretty "cheto" rite that teleports you behind an enemy, to kill multiple enemies that do not stop shooting is a joy but it takes a long time to load so use it wisely.
Finally we will name our favorite rite which is to "disable" the enemy ship. This causes that it can not move and that the inertia ends up stamped on a wall, used against ships that are in a group you can mess pardisima and have a few laughs.
Despite having played in normal mode, (usually I play in more difficult modes but I wanted to enjoy the story) some battles have made us frankly complicated so as I say, for many "improvements" you have, it will always be a challenge to defeat the biggest enemies and that is appreciated because, difficult or not, the game is still entertaining and if you end up mastering the piloting of the ship as it should believe us that you will want to pass it many times.
Something that does fail us a little is that the modifications of the ship are scarce, if they make an expansion improving this (and more crazy missions) would be a great point. The number of weapons you can choose is reduced to "machine gun", laser or rockets and the upgrades only increase at most 15%. Besides, you can't intermix or create new things, and I think that in this kind of games it should be something fundamental to be able to give free rein to your imagination when creating a good offensive
Final Conclusions
In conclusion, whether you are a fan of spaceships or not, Chorus is a very entertaining game that is worth playing, at the beginning if you have no experience it is likely to cost you a little to pilot the ship but it has "easy mode" and also the possibility of "resurrect in the same place where you have been killed" so no problem if you have never played a game of this genre. For the more experienced, you have the "total death" mode in which if you die the game starts from the beginning in addition to being able to increase the overall difficulty of the game, so we can give a 10 to Deep Silver for thinking about "all types of player".
The best
Gameplay, mechanics, it is very intuitive and with some practice you get to pilot the ship smoothly
Attractive ship designs and a well narrated story.
The worst
The ship upgrades are scarce and some missions even in easy levels are quite complicated, not because of the mission itself but because of the amount of enemies and the damage they do
We have made this review thanks to a download code of Chorus for PC provided by Koch Media.
Comments (0)
No comments at this moment