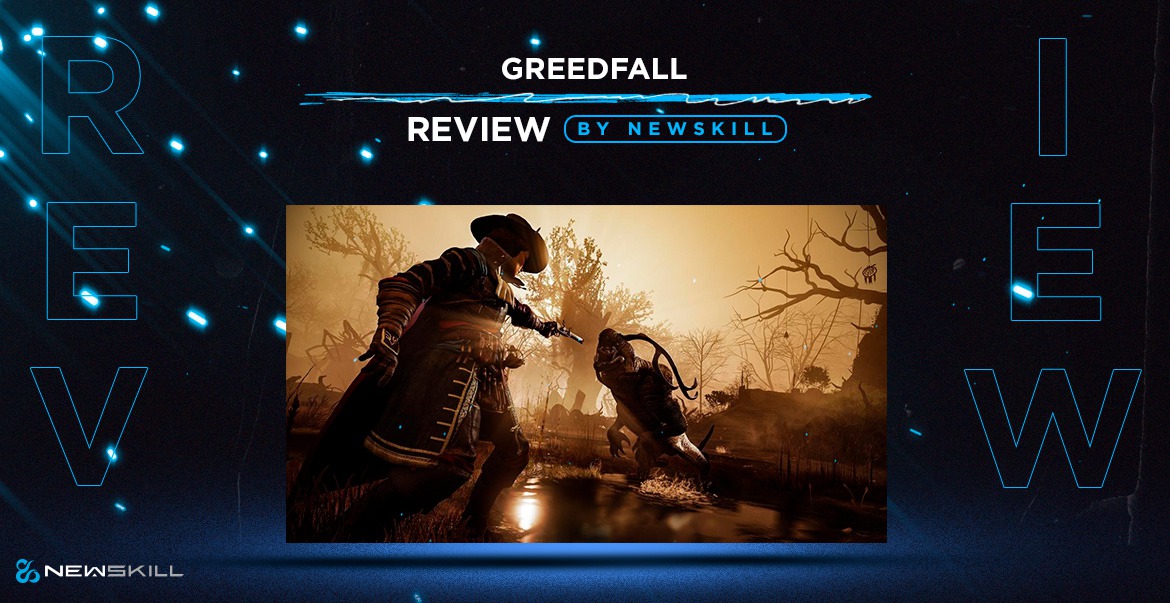 A strange curse is plaguing our continent and the discovery of a mysterious island could be the solution to save humanity. Our mission will be to travel to the mysterious island of Teer Fradee to discover the secrets it hides and face magical creatures. We settle into our Nayuki chair and get ready to bring you this review of GredFall.
Spider is the studio that brings us this classic Western RPG title filling the gap left by other developers, among them the best known is BioWare and its Dragon Age, a game with which GreedFall shares many concepts but gives it a twist by providing mechanics very present in the most current games.
Pure RPG
We have the classic dialogue options to decide the character of our character and establish sympathies with certain characters or factions or make enemies with them but also, our way of solving missions may also vary depending on the aspects that we decide to enhance our character.
If we opt for charisma we will unlock more dialogue options with which we can solve the problems we encounter or if we choose to enhance our ability to open locks we can sneak through other sites to reach our goal, and of course we will also have at our disposal the direct action with sword in hand and throwing spells against everything we encounter.
The artwork is outstanding, with its seventeenth century colonial setting very little exploited in general in video games and away from the typical medieval setting. The designs of the different races, the natives, the bridge alliance or the nauts with their background and history are very interesting and make you go deeper into the intricacies of this particular world.
Exploring Teer Fradee in depth
We will embody De Sardet, a member of the congregation of merchants, a neutral guild to the different factions with which we will cross during our adventure with what the game leaves us the option of deciding where we want to form alliances or stay more neutral. We will leave for Teer Fradee accompanying our cousin to take office as governor.
Here we will begin to search for the cure for the curse that is ravaging the continent while we form a team to overcome the various missions that we will be commissioned, having the typical relationships and friendships that will unlock their personal missions with which we can improve our relationship with them or turn them into enemies.
The map is divided by zones, moving away from the standard that is currently being imposed by large open world maps. The missions go at a very good pace and are generally quite interesting, although we do not get rid of the typical errand boy or collector missions, plus the movement of our character is a bit clumsy having to return many times on our steps to collect the loot that the enemy has left us.
A very adaptable combat system
When we create our character we are given a choice of three classic branches but then we can combine them as we wish. The game forces us to prepare for the fights, especially against the bosses, since in addition to their life bar, the enemies will have an armor bar and we will have to use special weapons to kill them much faster. To attack at a distance we will have guns or magic rings and for melee a multitude of weapons, light, heavy, one-handed, two... We will also be able to place traps or create potions through alchemy.
Despite all these options, in the end the normal fights become somewhat repetitive, tempting a lot to the simple button masher. It is different when we fight against final bosses, since here we can use more dodging and prepare the ground with traps to set up a good attack strategy.
The graphic section is where GreedFall suffers the most in our analysis, since the Silk Engine, its own engine is more limited, especially on consoles, which is where we have tested it. Its PC version is much more polished and with more detail. The soundtrack accompanies quite well, fulfilling its task of transporting us through different emotions depending on what we are living on the screen, although in general it has passed us a little unnoticed.
To conclude
In conclusion of our analysis of GreedFall we found it to be a very good game, with an outstanding setting and story that is weighed down by a combat system that has yet to be polished. The return to the classic western RPG with a game of this level is a delight for fans of the genre, a pleasant surprise that will make us enjoy many hours.
Strong points
The atmosphere is extraordinary
The different ways to face the missions
The story around the world they have created is very interesting
The design of the different races and equipment
Points to improve
Graphics a bit poor with little expressive faces
Combat can get a bit repetitive
This review was made thanks to a copy provided by Koch Media for PS4
Comments (0)
No comments at this moment