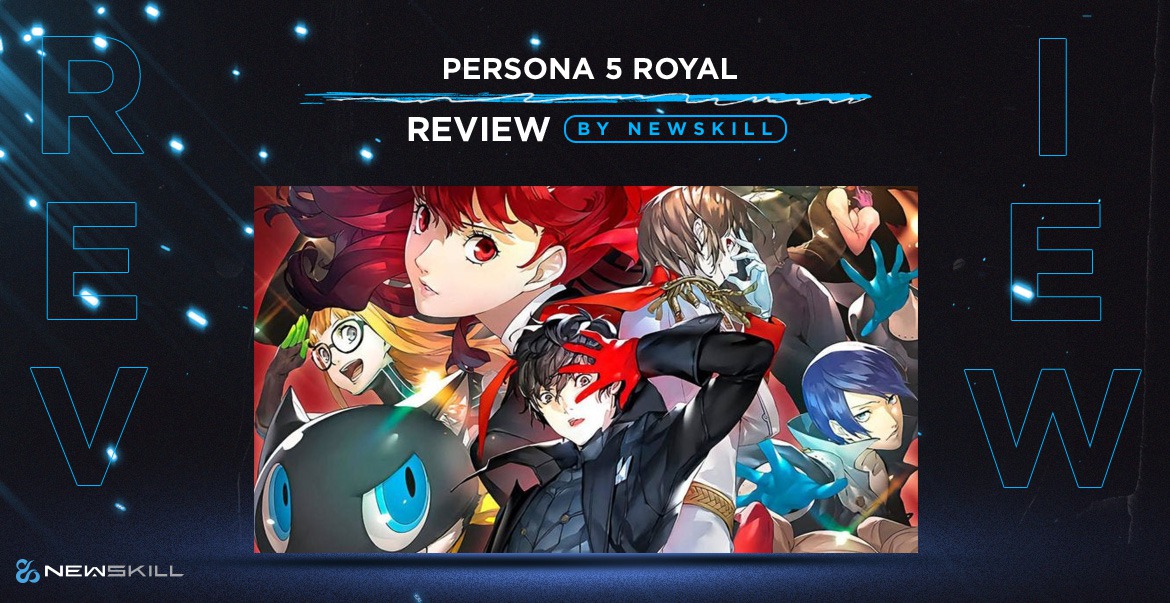 Unfortunately, we are still confined to our homes for a long time. But it's not all bad news. Atlus brings to the West an extended version of its critically acclaimed Persona 5 and does so by extending the lifespan of the title and offering us one of the most complete jrpg we remember historically. The best news is that due to the sales success of the launch version, the company has decided to bring the title fully translated into Spanish. Language will no longer be an excuse to enjoy this masterpiece. Are you up for a turn-based battle with Joker and the Phantom Thieves?
A story that mixes fantasy and social component
The story of Persona 5 R hooks us irremediably from the moment we start this video game. We are placed in the skin of Joker, a teenager who has been arrested by the police while performing a somewhat suspicious activity dressed in a mask that characterizes him. From this moment on, the story will develop through flashbacks that will detail all the events that occurred until his arrest. Joker will be revealing all the facts that led him to that police station and we will accompany his memories being his eyes throughout the adventure.
The story begins with our transfer to a new high school after being prosecuted for beating up a man who was sexually harassing a woman on the street. This heroic act will turn against us and our family will kick us out of the house. The owner of a bar will take us into his house and the new institute will not make things easy for us from the beginning because rumors fly. However, there we will meet two students who will end up being flesh and blood, a girl who goes to the same grade as us and a boy from a lower grade who is famous for being a bit of a troublemaker.
From that moment on the fantastic component will come into play, since on our first day of school a strange application will be installed on our mobile and will cause us to end up in a kind of castle instead of in class. During the expedition of that palace we will make a pact with a "Persona" and we will become Joker. People are a kind of beasts that will accompany us during the adventure and will be our weapons in combat. Our appearance will change radically when that application is launched and finally, our two initial adventure companions will also forge a pact with their respective persons. In that palace we will meet a cat named Morgana who will become an ally and will guide us throughout our adventure and will give meaning to this application and these palaces
From this moment on and under the name of the Phantom Thieves, this peculiar team will be adding allies and fighting against all those people who have evil desires. Fascinating... isn't it?
A tribute to the classic role-playing game
The gameplay of Persona 5 Royal is the usual for a traditional Japanese role-playing game. In this case, we have not chosen to adapt the combat to our time and try to create a combat system similar to the one that could be present in an ARPG, but we have kept the classic turn-based combat system of the good old role-playing game
During a normal day in Persona 5 we will be able to perform several actions. We will be able to create bonds with our allies by doing activities with them. For example, we can make coffee in the bar of the man who has taken us in or play sports with our inseparable companion of adventures. We will also be able to do all kinds of activities around the city such as washing our dirty clothes, going to a sauna, looking for a temporary job, buying books, going to a restaurant, reading a book, studying, making tools such as lock picks or going to orientation sessions at our institute. Besides being able to perform all these more "social" tasks, we can also explore the palaces or navigate through the "Mementos". The Mementos is a place where everyone's desires are gathered and in the Palaces we will find the desires of a single person
If we choose to perform any of the latter two actions, we will be forced to combat, to fight. And it is in this aspect of its gameplay where Persona 5 Royal stands out the most. The fights take place in turns. That is, at the beginning of the fight we have a turn for each of our 4 characters and then attack all enemies that are still standing. The way in which we will face these enemies will not be random, but we will see them walking through the scenarios and we can surprise them from behind to take the initiative in combat. However, it is also possible to be surprised by an enemy and start with a disadvantage and without being able to escape
Once we have started the combat we will have several commands. First of all we will be able to perform a physical attack with our main weapon. We will also have the option to summon our person and perform a kind of command that could be identified as magical. We will have them to attack, to improve the state of one of our characters and healing. The skills will depend on the type and level of our person. With Joker we will have access to up to 8 people and we will be able to alternate between them. We will have the ability to perform a ranged attack with the gun or type of firearm that we have equipped and we will have access to a certain number of shots. It will not be necessary to attack with all the bullets to the same enemy but we will be able to distribute bullets and damage among all of them. Finally, we will be able to decide whether to use an object during the battle
At this point it is worth noting that each enemy has a weak point, and if we manage to damage them with that attack to which they are vulnerable, we will be able to knock them to the ground. If we manage to weaken all the enemies, our entire team will approach them and we will be able to carry out a combined attack or force them to give us an object, to surrender, or to grant us their power. In this way we will be able to acquire people for Joker
At the beginning of the game, during one of our dreams we access a parallel world in which Igor is our jailer. He instructs us about people and the possibility of merging them together. In this way we will be able to combine the people we get in Palaces or Mementos and create new people much more powerful. Keep in mind that the person can not have a higher level than Joker, otherwise, we could not control it effectively
Animated graphics and a soundtrack that will grab you
The graphics of Persona 5 Royal stand out for being different. They have a very Japanese anime style and will satisfy fans of otaku and this type of Japanese series. The use of colors has fascinated us and the characters are very successful and manage to captivate you, both in their real world forms and in their form established in Palaces or Mementos. We consider that for this type of proposal the selection of graphics has been the most successful and could not be more identified with the style of game it represents. It is one of the hallmarks of Atlus and usually applied to all their video games
In the sound section it should be noted that the melodies are very catchy and help us to identify certain places or situations in the game. You will end up loving as much as we do the melody after a fight or that cane song that sounds in the fights against the final bosses. The sound is very immersive and the phrases of Joker and the rest of the Phantom Thieves during the fights are perfectly selected
Special mention to the English dubbing, with excellent interpretations and above all the trouble Atlus has taken in translating this work of art to our language, one of the main entry barriers for all those people who wanted to play the title but did not master the language of Shakespeare
The definitive edition of the definitive JRPG
If Persona 5 in its release version was already a very extensive game, Persona 5 Royal will make you not take off the screen in many months. We are talking about completing the initial story without many frills already meant in the initial version between 90 and 100 hours of gameplay. And for this extended version we are talking about that all the added components represent an extra 30 hours of gameplay, so completing Persona 5 Royal in its entirety will mean dedicating between 120 and 130 hours of our lives
However, believe us when we tell you that it is worth every hour, minute and second invested in the game as it manages to surprise us at every turn of events and will make us miss reliving the adventures of Joker and company once we have finished it. For us Persona 5 Royal is undoubtedly one of the best JRPGs that has given the history of video games
The best
Game for months and months, with a duration of more than 120 hours
The combat system is one of the best the genre has ever produced
It mixes the usual RPG development with a more social component
The additions of this version, which further extend the life of the title
Its translation into our language
The Worst
That you don't have 120 hours to dedicate to a videogame
We have conducted this review of Persona 5 Royal thanks to a physical copy for PS4 provided by Koch Media
Comments (0)
No comments at this moment