Uncharted 4 and Uncharted: The Lost Legacy can be considered two of the best video games of Playstation 4. Sony and Naughty Dog surprise us now with a collection that remasters both games for Playstation 5 and includes exclusive new features for the new generation. Do you dare to discover them with us?
The most endearing and funniest thieves in the world of videogames
Nathan Drake is undoubtedly one of Playstation's most charismatic characters and one of the visible faces of the company. His ironic sense of humor and his sense of adventure have been deeply felt by the public and the press, and the fourth installment of the saga was the best title of the franchise so far. In Uncharted 4 we meet a Nathan who lives quietly with his wife, Elena Fisher. We will see him nostalgically recalling the old days in which he lived one adventure after another and in which he managed to make a name for himself in the world of archeology and exploration. Elena and Nathan have decided to live a quiet and risk-free life. But Nathan does not forget the past and misses his particular treasure hunt
Sit down on your fabric gaming chair because it's coming curves... Nathan's world will fall apart after receiving a visit from his brother, whom he thought dead after leaving her behind on a remote island. Sam Drake is a scoundrel and lives up to the famous saying that "there is no honor among thieves". There is no doubt that he appreciates his brother, but he appreciates himself much more and will always put his own motivations and ambition first. Seeing himself surpassed in fame by his younger brother must not be easy. Sam asks Nathan for help when he is threatened by a dangerous ally who managed to help him escape from the prison he was locked up in. Nathan decides to lie to Elena and looks for an excuse to help his brother. The two embark on a treasure hunt against Rafe (a daddy's boy looking to make a name for himself) and Nadine (commander of the Shoreline army of mercenaries). On their journey they will be reunited with characters as beloved in the saga as Sully.
The narrative of Uncharted 4 is simply masterful. At the beginning of the adventure we will be living half of the video game and during several chapters (of the 22 total plus the epilogue) we will also live and expand the past of Nathan and his brother Sam through flashbacks about the passage of both in an orphanage. It is not so important what is told (in the end the treasure hunt is an excuse to push us to the limit with its action, platforming and exploration) but how it is told. We will find ourselves glued to the screen wanting to know more about the Drake brothers.
Walk alone and you'll get there fast, walk together and you'll get further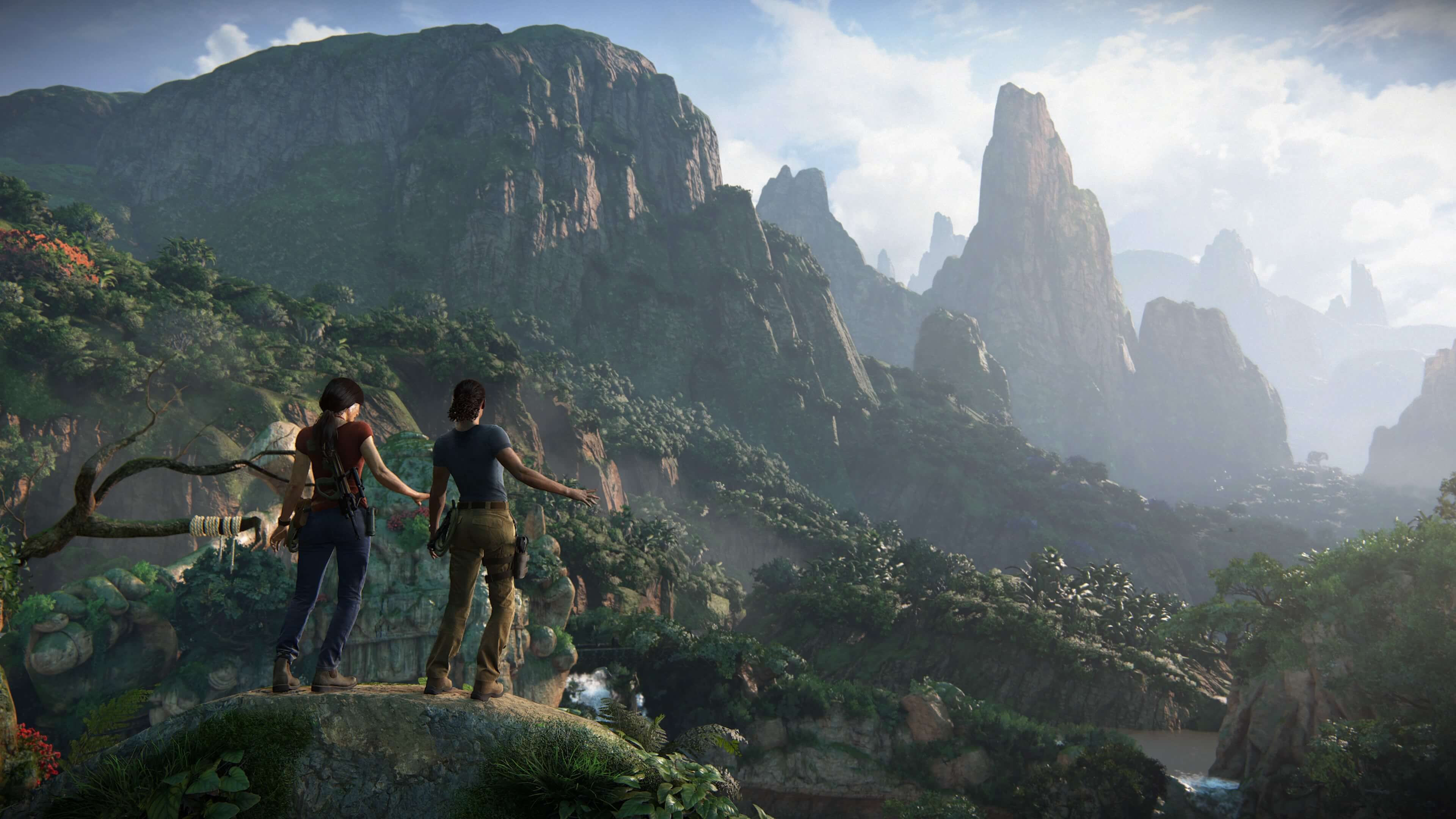 Uncharted: The Lost Legacy is included in this collection and is a spin-off of the saga that continues the events narrated in the fourth installment of the saga. This time we will not control Nathan, but we will take the role of Chloe Frazer (whom we already know from Uncharted 2 and Uncharted 3). We will travel to India to find the Fang of Ganesh, a legacy that his father (a famous archaeologist) left him when he died. In his company he will be accompanied by a familiar face who acted as an antagonist in Uncharted 4: Nadine Ross. At the beginning it will be strange to have Nadine on our side, since the fourth installment we suffered her physical strength and threats on several occasions. Her love for the Drake brothers is null and void and has already been demonstrated
Chloe is a very charismatic and fun character and will remind us to some extent to Nathan Drake himself for the way she takes the events that happen to her and for her ingenuity in solving puzzles and mysteries. Like Nathan, she also keeps secrets, and those secrets will lead her to have more than one misunderstanding with Nadine. In spite of everything, the chemistry between both protagonists is evident from the beginning of the journey and we will laugh a lot at the conversations they will have with Sam Drake (who appears in this spin-off as a non-playable character). The antagonist of this installment will be Asav: a lone rebel who tries to create war and get benefits from it. Like Chloe and Nadine, his ultimate goal will also be to get hold of the Fang of Ganesh.
Explore, jump, climb, drive, shoot. Make the adventure yours
Uncharted: Legacy of Thieves Collection surprises us at the gameplay level at every step we take. In both installments we will control a main character (either Nathan or Chloe) with which we can explore, jump, climb, shoot and a host of other playable actions that we will detail below. The Uncharted saga is divided into several playable phases
First we will have access to an exploration phase in which we can investigate the area and go jumping from one ledge to another or climb to reach a higher point. The path to follow is easy to intuit and it will be very difficult to get lost. There are visual aids that will encourage us to locate that ledge that will allow us to climb a building or that trunk on which we can throw our rope to slide to the other side of a cliff. If we get lost, our companion (either Sam, Sully, Nadine, Elena or the person who accompanies us at the time) will talk to us to give us a clue about our next step. The platforming is very satisfying and the climbing areas are perfectly measured. As the adventures progress we will acquire new skills that will allow us to climb or move in a more efficient way. Part of these journeys will be on foot and part will be in vehicles (motorcycles, cars, vans, boats and boats among others). Uncharted puts gameplay at the service of spectacularity and some motorcycle chases are really memorable
Secondly, we will experience armed confrontations against enemies. The confrontations can be with firearms or melee (usually motivated by narrative triggers). Combat with firearms is based on a system of stealth and cover. Normally we will reach an area full of enemies and we can clear it without any of them alerting our presence or we can choose to make a lot of noise and live a more intense combat. We can take cover behind walls and all kinds of objects and lean out to shoot at any enemy that gets in range. During the fights it will also be possible to climb buildings or take advantage of our rope to surprise rivals. On certain occasions it will not be possible to act stealthily and we will face situations in which we will be fleeing in a hurry from an army that we could not face even if we wanted to. Special mention deserve some of the final chases of the fourth installment, as they are an emotional tribute to another great saga of the studio: Crash Bandicoot. In fact we will be able to play in Uncharted 4 a level of one of the Crash titles. The melee confrontations are a kind of beat em up in which we can dodge the opponent's attacks with a button plus the joystick and hit with another button
Thirdly we come to another of the strengths of Uncharted: Legacy of Thieves Collection: its puzzles. As usual in the saga, puzzles are one of the central elements of the gameplay experience. In Uncharted 4 we will have access to some really inspired puzzles that will require a thorough review of the notes that Nathan is making in his diary. The difficulty of the puzzles in both games is very well measured and all of them have their logic, either after looking at the notes in the notebook or observing the elements and inscriptions of the environment. They are not impossible puzzles and reward the perseverance and attention of the players. At no time have we felt that we were facing an unfair puzzle and at no time have we thought of giving up or skipping the puzzle and letting our partner complete it for us (if it is detected that we are taking too long to complete a puzzle we are given the possibility of skipping it or letting our companion complete it for us). Its puzzles are an example of execution and challenge and have served as inspiration for other video games that have been released subsequently
The gameplay of Uncharted 4 is more linear in the strict sense of the word as our goal will always be to go from point A to point B, although along the way we can deviate from the established route to collect collectibles (which are also present in 'The Lost Legacy'). However Uncharted: The Lost Legacy incorporates a certain sense of freedom in the first part of its proposal because we will have a map of an open area that we can explore at will or at least in the order that we decide. And that will have a totally optional area that will invite us to go through the entire map with greater thoroughness to get an even greater treasure to which we aspire. Chloe and Nadine are a breath of fresh air for the series and its spin-off manages to bring new ideas and exciting incentives for a possible fifth installment of the series or for future titles in the Uncharted universe
Completing Uncharted 4 can take us between ten and fifteen hours and see the end of The Lost Legacy could take us between 6 and 12 hours depending on how completist we want to become. Both proposals can be replayed at different levels of difficulty and put on the table the possibility of getting all the collectibles, so replayability is guaranteed if we want to get all the trophies.
A facelift for the new generation of consoles
Uncharted 4 and Uncharted: The Lost Legacy are two relatively recent titles (2016 and 2017 respectively) and already had a remarkable graphic section. Now they arrive on Playstation 5 with a remastering that has suited them wonderfully. It will be possible to play both installments at 60 or 120 frames per second in their Performance and Performance + modes. The original titles could be enjoyed at launch at 30 fps on Playstation 4, so the fluidity at the controls is noticeable and to be appreciated, since 60 fps is one of the workhorses of this new generation of consoles. The action parts and their animations will benefit from this technical leap and the experience will be totally different if we talk about gameplay
The graphics modes available in Uncharted: Legacy of Thieves Collection are as follows:
Performance Mode: graphical enhancements and 60 fps
Performance + Mode: 1080p resolution, some graphical cutscenes and up to 120 fps
Fidelity Mode: 4K resolution and 30 fps
For our part we recommend the Performance mode, as the frame rate jump greatly improves the action areas (in our opinion the best asset of the two installments)
In terms of art, we will once again find ourselves in front of beautiful and incredible landscapes that we can admire thanks to a narrative that will take us from one part of the world to another in our particular treasure hunt (either accompanying Nathan or Chloe).
We think it is important to emphasize that this collection is one of the video games that makes the best use of the unique functionalities of Playstation 5 so far. Astro's Playroom, Returnal and Horizon Forbidden West (to give 3 examples) have already been able to successfully take advantage of the haptic feedback, Dualsense adaptive triggers and 3D audio technology of the PS5 console. In this Uncharted collection we will be able to appreciate those functionalities for example in the rain scenes. As in Astro's Playroom, we will feel the raindrops falling on our character directly on our Dualsense. And we will also notice those adaptive triggers in the middle of a gunfight when we notice that our weapon has jammed. Or even when we are driving a jeep with Chloe through the jungle. The 3D audio has been implemented to perfection and will help us to identify hidden enemies during combat and to discover the way forward if we are lost. As usual in any Playstation 5 game, loading times are virtually nonexistent and we will see how we will not have to wait hardly between death and death or to start or load a game from the menu
Honey for your ears: let yourself be enveloped by the soundtrack
The Uncharted saga has always been known for its excellent soundtrack and this collection is no exception. The melodies are adapted to the narrative climax and the constant plot twists present in both titles. Changing location also means changing the melody, and thanks to that change we will be aware that we are traveling and that we are doing it to a new place. Uncharted knows when to excite you in a really tense moment of the plot and knows when to make you smile in that impasse in which it seems that everything is going to be fine. The use of music moves the plot forward and the plot moves forward at the same pace as the music does
Both titles arrive with an impeccable Spanish dubbing, as we are accustomed to Sony with their own production video games and with a localization that is only available to other major companies such as Nintendo
Suitable for both die-hard fans and neophytes in the saga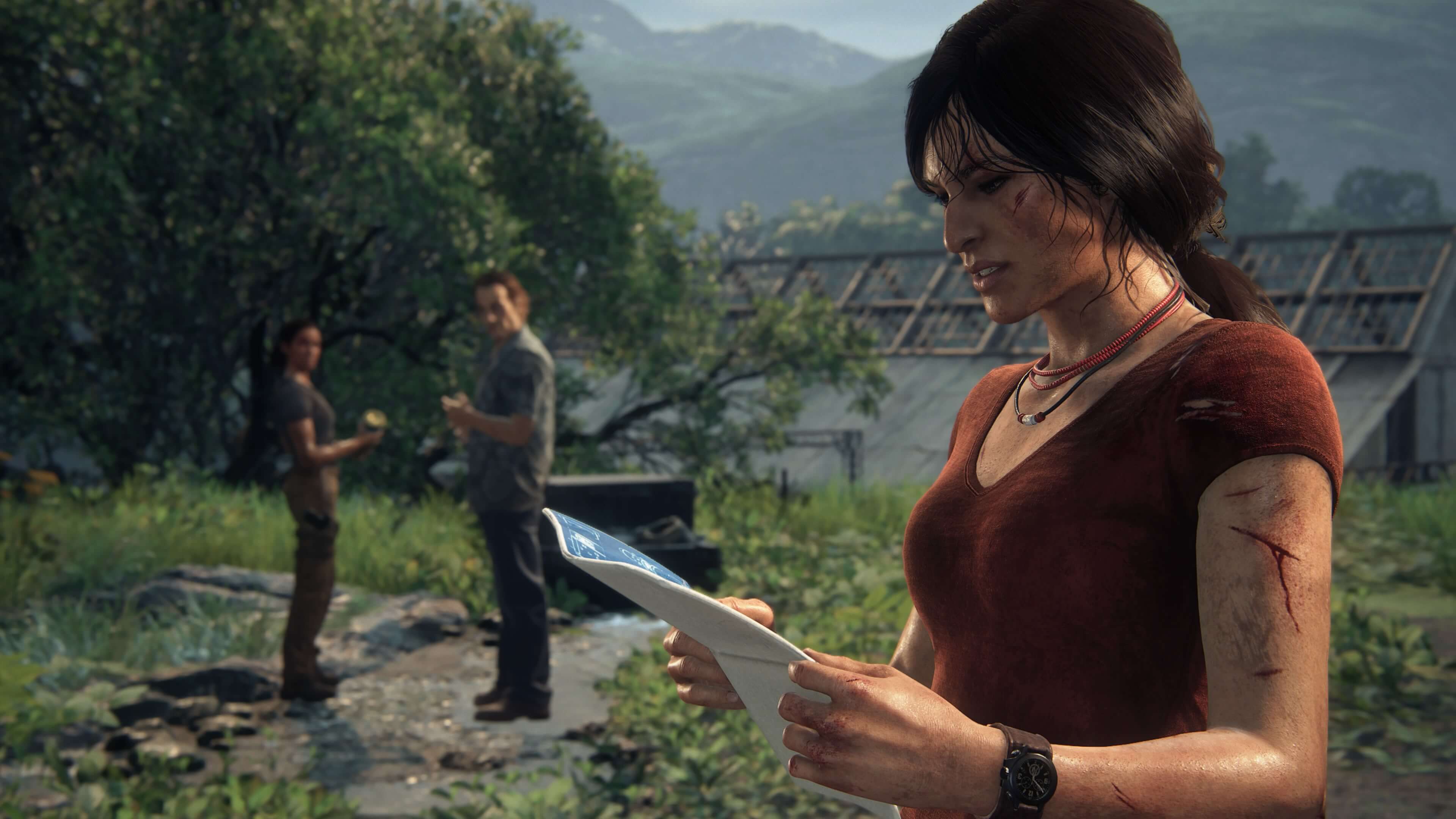 Uncharted: Legacy of Thieves Collection is a title that can be enjoyed equally by people who have lived the entire saga in full as by those who are approaching an Uncharted title for the first time. It is true that many references and relationships between the characters are lost if we are new to the saga, but it is also true that there is a remastered collection of the first three installments for Playstation 4 and that the story is equally enjoyable without knowing anything about the Naughty Dog franchise
For all those people who have not yet played Uncharted 4 and Uncharted: The Lost Legacy is a must buy and more at the reduced price at which you can usually find: 49.99 euros. If, on the other hand, you have already been able to enjoy the two installments on Playstation 4, there is the possibility of upgrading to the new version of both titles. We will be able to do it for 10 euros from the Playstation Store and the requirement to get the collection at that price will be to have one of the two games, either in physical or digital format (it is not necessary to have both, but it is essential to have purchased the title, it is not possible to get the update if we got the fourth installment thanks to the Playstation Plus subscription service)
Final conclusions
Uncharted: Legacy of Thieves Collection is a Playstation 5 must-have in its own right. For a reduced price we will have two of the best Playstation 4 games with improved graphics and new features that enhance the gameplay experience. Highly recommended for both fans and people who are curious about adventures, action and exploration. Sony continues to offer updates of the best games in the PS4 catalog for its next generation console and once again does it right. After Death Stranding and Ghost of Tsushima it was the turn of one of the most successful sagas of Naughty Dog (with permission of The Last of Us and Crash Bandicoot). Both installments have authentic moments at the gameplay level and puzzles that will make us take more than one turn. It will take a long time to forget their characters and dialogues. And above all, it will take us a long time to forget (and we don't want to) its soundtrack
The best
Two titles in one: both have aged beautifully
60 fps that enhances the gameplay experience
Exploitation of PS5 exclusive features
Reduced-price release
The Worst
Absence of competitive multiplayer
If we have already played the two installments there is no new playable content
We have made this analysis thanks to a download code for Playstation 5 provided by Playstation Spain.
Comments (0)
No comments at this moment