Fans of the Yakuza saga are in luck, and so are fans of traditional turn-based RPGs. Even if you don't know the video game series, it's your lucky day. The seventh installment of this saga of the Japanese video game company Sega arrives with its usual humor and with a very important novelty with respect to its traditional combat system.turn-based role-playing combat are inserted in modern Japan with a crazy story full of plot twists, mini-games and lots of humor. Do you want to have a good time with us?
A different story
Yakuza Like a Dragon is the new installment of this famous video game saga. The new installment moves away from the usual characters of the first 6 installments and introduces new characters and locations. The protagonist of this bizarre story is Ichiban Kasuga, a young man with a passion for role-playing games such as Dragon Quest. His passion for this genre explains why the combat is turn-based, as it reflects his passions in real life. We will know the story of Ichiban from its origins, with all the grays that this entails
Abandoned since he was a baby, he is abandoned in Shinuki and taken in by the owner of a Japanese brothel. He grows up surrounded by problems and fights in search of money but makes enemies he never wanted: the yakuza. Arakawa, the man who adopts him, manages to save him from this difficult situation and decides to train him as a real yakuza. Arakawa asks our hero to return the favor, and he is forced to spend almost 20 years behind bars. Upon his release, Ichiban finds a master who wants nothing to do with him and a society in which he does not fit in. From that point we will take part in the adventure and guide our hero towards his acceptance in a world he no longer recognizes.
Turn-based combat and Yakuza-like gameplay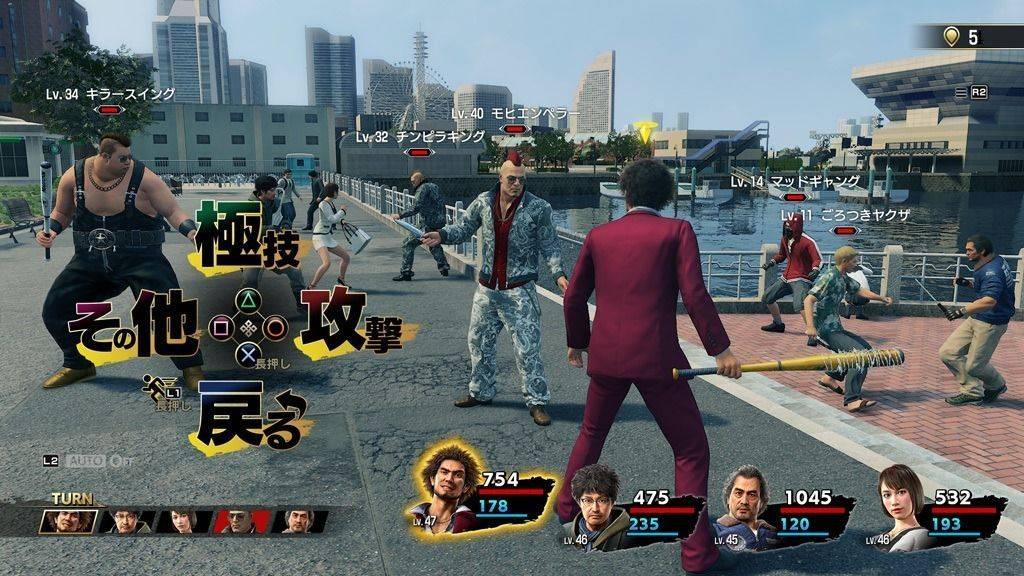 The gameplay of Yakuza Like a Dragon, despite being different from its predecessors, has many points in common with the usual tone. It will be common to be walking down the street and have to face thugs in a Japanese city who will want to confront us. However, this time instead of fighting as if it were a beat em-up, fighting game or hack and slash, we will do it through a turn-based combat inherited from role-playing games like Dragon Quest. Our character will be able to move around the stage but the turns will mark the actions of each character. We will have access, as in a role-playing game, to different jobs that will provide us with certain skills. But being Yakuza a crazy proposal as it is, in this case we will not be warriors, magicians or summoners, but we will be influencers, cooks, businessmen and many other very crazy real jobs that you will love
The side quests and collectibles will also be the order of the day and if we want to complete the adventure we will have to invest dozens of hours, reaching over 50 hours to infinity if we want to enjoy the adventure calmly and in the most complete way possible. If anything characterizes the Yakuza saga is its elaborate mini-games, and Yakuza Like a Dragon was not going to be less. From classic Sega arcade games, to managing your own business (as if it were a resource management game), to a mini-kart game that will include rings in honor of Sega's hedgehog, Sonic. Within Yakuza Like a Dragon there are therefore small independent games that in many cases would deserve a complete game because of how well worked they are
But the novelties regarding the introduction of the role-playing genre are not only in combat, but we will also have dungeons that we can complete or not, secret bosses (very typical of Square Enix RPGs), arenas with battles that increase in difficulty (as already happened in Final Fantasy VII Remake) or even a component inherited from Pokémon very similar to the Pokédex, an encyclopedia in which we will record all the enemies that we will be facing during the course of the adventure
Graphics and sound at the height of the saga
Yakuza Like a Dragon is available for the current generation of consoles and later we will have the version for Playstation 5, in March 2021. For Xbox Series, improvements in terms of graphics and fps have already been applied. About what we can currently talk about, we are facing a very careful and very spectacular artistic section at the same time. The cinematic scenes are characteristic of the Yakuza video game series and we will spend (especially at the beginning of the adventure) much of the time watching how stories are told through cinematics. It uses the same graphics engine as the previous installment, Yakuza 6. However, the Dragon Engine has proven to be at the height yet and the details of the characters and cities are to be admired
If you play the Xbox Series version you will see reduced loading times, something that is always appreciated for quick trips and not having to lose the thread of the adventure and feel that we are already in the next generation of consoles
The soundtrack is at a high level and differs from the previous numbered installments of the Sega franchise. An important novelty is that we will be able to go collecting discs of the BSO to insert them in a jukebox of a hovel and we will be able to enjoy songs of other proposals of Sega like Sonic. Another news to celebrate is the translation of the texts to our language, following in the wake of the spin-off Judgment and dubbing both English and Japanese.
The best
The introduction of turn-based combat gives a breath of air to the series
The mini-games feel like complete proposals and are very varied
We have video game for dozens of hours without getting bored
It arrives translated into our language, always appreciated
The worst thing
A somewhat guided start that allows us to explore the vastness of Japan
We have made this analysis thanks to a download code for PS4 provided by Koch Media.
Comments (0)
No comments at this moment