Finally the new content pack expansion is available. This year EA wants us to become interior designers, something that is appreciated for those who like me, like me, like the part of designing the house, rather than playing with the Sims. But, is this expansion worth it?
New features included
As for clothes for men/women/children and hairstyles, it is not the strong point of the expansion, but it is true that it adds new features. As it usually happens, these novelties are always more interesting in female characters than male ones, with a much wider repertoire and at least in my opinion, more interesting.
We come to the highlight of The Sims Interior Design. More than the gameplay, the element that stands out above the others is the selection of furniture included. Modular furniture and sofas, decorative objects, two new kitchens, bathroom elements... It is simply impressive. It has everything we need to make the house of our dreams (and that of more than one)
The style of the furniture it incorporates is modern and minimalist, almost Scandinavian, with soft colors that combine well with each other. Moreover, the design is so similar to IKEA that more than once you will see a piece of furniture that you have almost the same in your house in your real life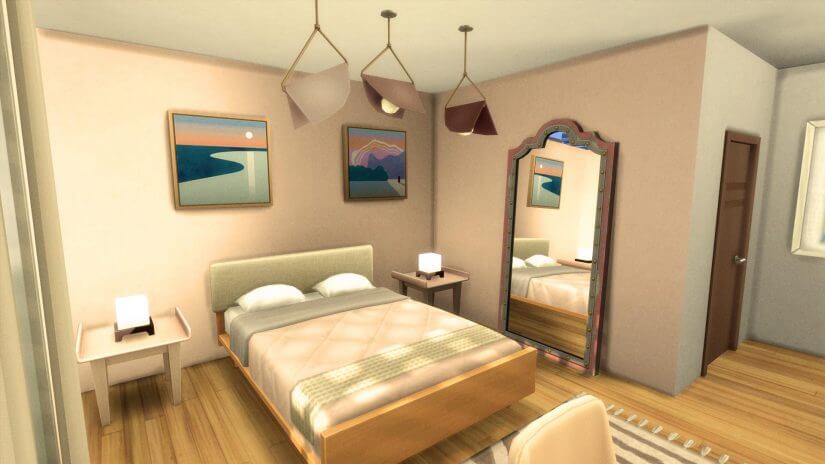 And is that in this new expansion are available all kinds of furniture, but if you have to highlight any are the sofas and modular furniture, which allow us to create rooms to our liking and that are visually perfect
Toilets, bathrooms, showers, lamps, decorative items... The options are enormous! Now we can even create a dressing room to store our outfits as if we were a famous influencer
As for the build mode, it is the one that gathers less news, only 1 new wallpaper and 3 doors. Something that has been insufficient if I have to put a downside
Final conclusions
The new expansion wins many integers in the buy / build mode, where its content is outstanding, the best I've seen in The Sims 4.
The design of the furniture, the color palette selected ... give an impressive result in the construction of our homes. If you are like me, with the soul of a TV show decorator, you will love this expansion, I highly recommend it!
The best thing about it
The amount of new furniture
How beautiful the new furniture is, its design and colors
The modular furniture
The worst
The novelties of the build mode, very few
We have made this review thanks to a download code for PC provided by EA Games.
Comments (0)
No comments at this moment