Gaming mice are an essential peripheral for any self-respecting gamer. And when we think of our main weapon to play video games, we will not do it without seeing it accompanied by a mouse pad on which to slide.
But... which mouse pad should we choose? There are so many, that this task can become difficult. At Newskill we have prepared a gaming mouse pad guide to help you decide which one to choose.
First of all, the main feature that we have taken into account to write our gaming mouse pads guide is the type of material with which they have been manufactured. Depending on this factor we will find one texture or another, which will allow us to play more or less smoothly with our gaming mouse. The material we choose will also depend largely on our mouse. In the case of optical mice, the mouse pad should be as uniform and reflective as possible.
The most common and most used in the world of video games are cloth mouse pads, but we can also choose plastic or aluminum. We can find different types of touch, from the smoothest to the roughest. As well as different types of finishes: differentiating between rigid and flexible. The rougher the surface, the more stable the control will be and the more precise the gaming sessions will be. The base is made of rubber and allows this support surface for the mouse not to move from its place thanks to its non-slip property. The shape depends on the manufacturer, but you will usually find them square or rectangular depending on the size.
Control vs. speed... or both?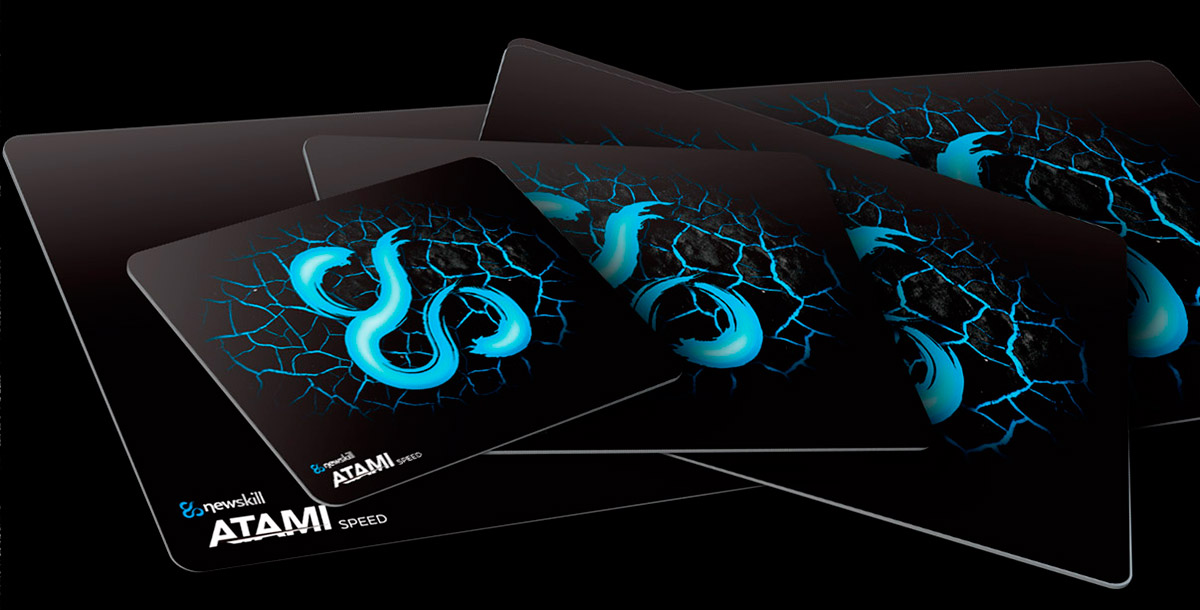 The Atami range of gaming mouse pads consists of two distinct models: the Atami Speed and the Atami Control. As their names already indicate, one will give us more speed and the other more precision. Two elements that should not be missing in any good gaming mouse pad guide. Both models have a natural rubber base that adapts to all types of surfaces and are available in four sizes (S/M/L/XL).
The Atami Speed is made of pressed microfiber and has a laser-cut edge. Ideal for players who prioritize speed above all else in their playing sessions. It is characterized by a great sliding capacity.
The Atami Control has a surface of textured fibers and its edges are stitched, which gives it greater control in the movement. Lower speed and higher precision.
However, speed does not always have to be at odds with precision. The range of Bahamut gaming mouse pads has a pressed microfiber surface that will give the player speed and precision in each of his movements. It has a rubber base that will give us a total grip on any surface. The edges are stitched with double braiding and its thickness (only 3mm) make the Bahamut series one of the lightest gaming mouse pads. It is available in four sizes.
Brighten up your games: Nemesis V2
The Nemesis V2 gaming mouse pad will give that extra touch of color to your games with a spectrum of seven colors: blue, red, green or violet among others. Decide which color best suits your gaming style and switch between them with a single button. If you are not satisfied with traditional lighting, choose between the three color effects included in the Nemesis V2 mouse pad (rainbow, breathing or rotation) and customize your set-up like never before through the button on the connector or through its customizable software with up to 16.9 million colors. It is also possible to select from one of the 7 fixed colors available.
The Nemesis V2 gaming mouse pad stands out for its surface made of microfibers pressed extremely thin to provide a better glide at a higher speed without ever losing control of your movements in each game and with precision as the best ally
The 4mm natural rubber base of the Nemesis V2 gaming mousepad provides a perfect grip and is positioned as a perfect model for video games with demanding movements such as action shooters or FPS
With the Nemesis V2 gaming mouse pad you only have to worry about playing and enjoying, as it has a plug and play micro USB and a two-meter cable to connect it to your computer and not have to worry about any other connection. Plug, play and start enjoying without waiting or installations
The Nemesis V2 gaming mouse pad has always been a hallmark for Newskill and deserved to join the Ivory family. Enjoy all the features and characteristics of one of our most beloved products but now in a totally renewed version. Give a different touch to your set-up.
Size does matter
Another of the fundamental elements that we have considered in our gaming mouse pads guide has been the size. Not all gamers have the same habits in their daily ritual as gamers. Nor are all mousepads the same, nor do they allow the same use. On the one hand, the thickness of the mouse pads is important, usually ranging from 2 to 5 mm. But even more important are the dimensions of the mouse pad we select for our mouse. We must choose a size with which we take advantage of our skill. If the mouse pad does not fit the size we want, we will play the same and our winning ratio will drop (even if we are using a keyboard cucumber like the Suiko).
Currently there are different size proposals in the gaming mouse pads market. From size S to size XL, the latter being the most requested by gamers. Such large dimensions allow us to support not only the mouse but also our keyboard, as well as the microphone (do you know Kaliope?) or headphones.
The Atami Control, Atami Speed and Bahamut models come in four sizes (S, M, L and XL) and Nemesis V2 is available in XL.
The range of gaming mouse pads Newskill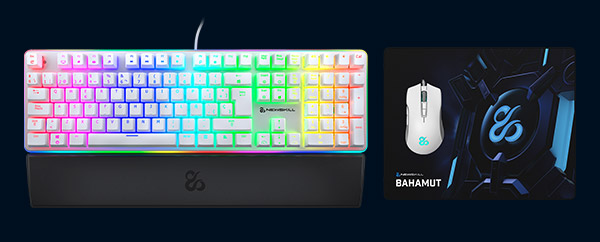 At Newskill we are thinking of all types of gamers and gamers on the gaming scene and we offer you the 4 models of gaming mouse pads that we have described above, each with its own particularities. If you still don't know which one will best suit your gaming style we leave you a comparison table so that, at a glance (you will see it better if you use your Iris glasses), it will be clear to you which is your dream gaming mousepad.

We hope this gaming mouse pad guide has helped you to find the inseparable companion of your mouse. Now that you know what your mouse and mousepad are, we recommend you to visit our gaming keyboard guide to complete an invincible trident :)
Comments (0)
No comments at this moment