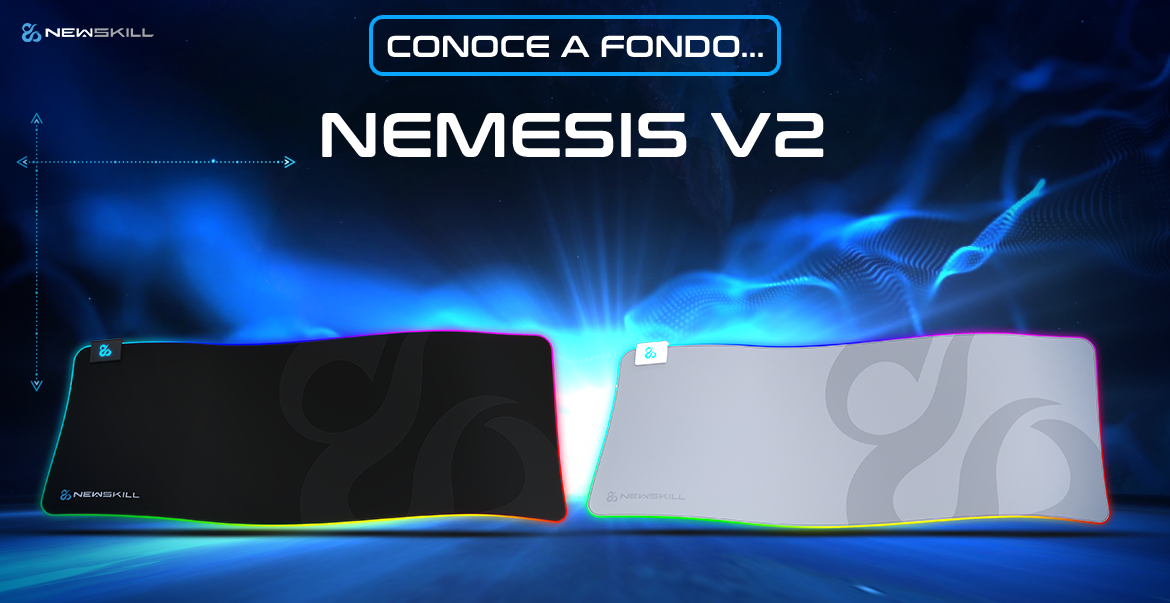 We know you love our Nemesis mouse pad. Since we introduced it some time ago you have shown your absolute love for this RGB gaming mouse pad model. Now we have listened to your support and we have developed improvements to achieve an even more complete model than the previous one. And it comes with a surprise... do you want to discover it with us?
Light up your set-up with Nemesis V2
The Nemesis V2 gaming mouse pad brings a touch of color to your games with a spectrum of seven colors: blue, red, green, yellow, cyan, pink and white. Decide which color best suits your type of game and switch between them with a single button on the hub of the mousepad itself
If you want to customize your gaming space to the fullest, you can select from the three color effects available on the Nemesis V2 gaming mouse pad. Rainbow or rainbow, breathing between the different colors available or full color rotation. These three lighting modes can be selected from the mousepad panel itself, as well as if we configure it to have a fixed color. Nemesis V2 has a button on its connector but it is also possible to configure the lighting through its configurable software in up to 16.9 million colors.
The best materials for your mouse pad
The PC gaming mouse pad Nemesis V2 surprises with a review that stands out for its surface made of microfibers pressed extremely thin to provide a greater and optimal sliding at a higher speed without ever giving up to have control over your movements in each gaming session without missing a single one of your commands and achieve victory
The 4mm natural rubber base of the Nemesis V2 RGB mousepad provides an ideal grip and is positioned as a perfect model for video games with movements that demand the most from the player, such as shooters or fighting games
Always connected and ready to play
With the Nemesis V2 computer mouse pad you only have to worry about playing and enjoying, as it has a plug and play micro USB and a two-meter long cable to connect it to your computer and not have to worry about any other connection or the mess of cables that usually form on our desk. Plug it in, play and start enjoying without waiting or installations
White is here to stay
The Nemesis V2 gaming mouse pad has always been one of the most beloved models of the Newskill family and deserved to have an Ivory edition in white. Enjoy all the features and characteristics of one of our most demanded products but now in a totally renewed version. Give a different touch to your set-up and complete your desk in white together with Kimera Ivory, Suiko Ivory and the upcoming Eos Ivory.
Comments (0)
No comments at this moment