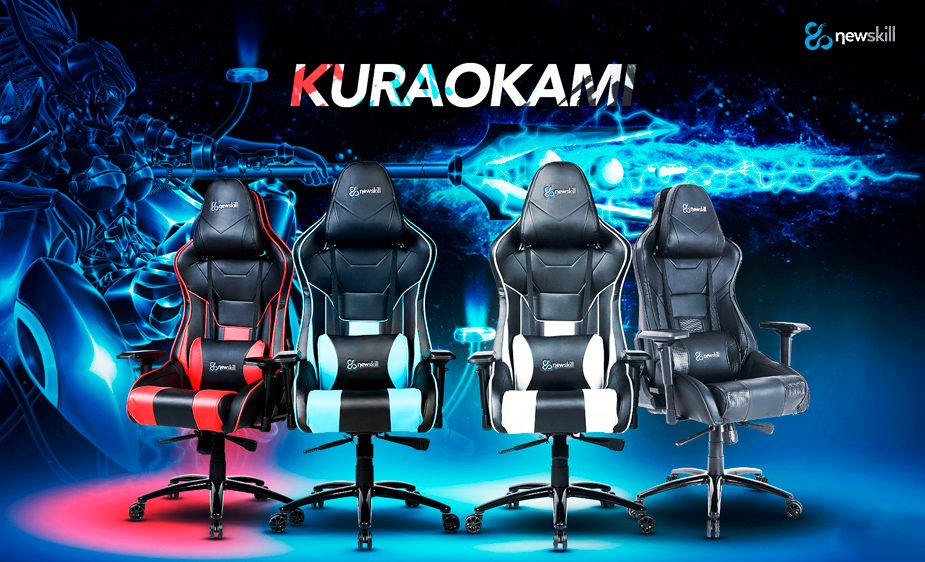 Newskill Gaming, the Spanish brand of reference in the world of gaming chairs, adds the new Kuraokami to its extensive offer. Its name, taken from the Japanese legend of the Okami-Kura dragon, symbolizes its qualities: a striking, elegant and durable chair.
The Kuraokami model has been designed according to the highest ergonomic parameters: its 2'5D curved backrest allows long playing days while reducing fatigue, correcting posture and reinforcing the lumbar and dorsal areas.
Main features of Kuraokami:
Reclining seat adjustable in four positions.
4D ergonomic armrests
Reinforced metal base and internal metal structure.
2.5D backrest reclining up to 180º
Shape your Kuraokami chair to your liking
Manufactured with a reinforced metal structure, it ensures durability even after prolonged use. Likewise, its 5 nylon wheels protect any surface without limiting movement. The 50 kg per cubic meter foam padding offers extra resistance: it provides the body with superior support without deforming. In its quest for the perfect posture, Kuraokami can be customized in four different positions and is capable of reclining to a 180-degree angle. This precise tilt control makes it the perfect ally in avoiding bad back posture.
The multifunctional armrests with 4D technology of the Kuraokami gaming chair are another of the improvements incorporated in this model, and can be adjusted to find the most suitable position at all times.
Kuraokami is an ergonomic gaming chair
In addition to meeting the best ergonomic requirements, Kuraokami is built with quality materials and has a striking attractive design: it is covered with premium synthetic leather and is available in various color combinations: blue and black or red and black.
Its dimensions are 130-138 cm in height and 25 kg in weight. The Kuraokami chair from Newskill Gaming will be available here from December 21 at a price of 239,95 €.
If you want to know all the news from Newskill and not miss anything, join our VIP list and you will be the first to know about new releases and exclusive discounts.
Comments (0)
No comments at this moment