For all those who can't be separated from their headphones, whether for leisure or work, here comes our Anuki wireless headphones. A convenient option to accompany you at any time, wherever you are. We tell you all the advantages of having Anuki headphones in your equipment
Wireless headphones for any situation
Anuki wireless earbuds come loaded with features and benefits to give a push of energy to your day. The first thing we'd like to point out about them is their comfortable design, specifically designed to fit comfortably in your ear. Not only does this mean you can enjoy them for hours without even realizing you're wearing them, but you can also wear them outdoors and during various activities
To give you the best sound quality, these wireless headphones feature Bluetooth 5.0 to improve the connection stability between them and your devices, promoting efficient power consumption. They are perfect for video calls, listening to music or practicing sports, thanks to their IPX4 resistance and easy handling. With Anuki, it's easy to keep up the pace all day long
Touch control
In addition to its wonderful design and extensive possibilities, these headphones have the best control options, to adjust and manage them in the fastest and easiest way. Control the volume, skip songs, answer or reject calls, directly from the headphones themselves. Anuki has a touch zone at the top, and by simply giving the specified number of touches for each action, you will have full control in a moment. In addition to full control of the headphones' basic options, you'll also be able to jump between noise cancellation mode, transparency mode and neutral mode. And on iOS systems, you can select modes directly from the Anuki menu on your device.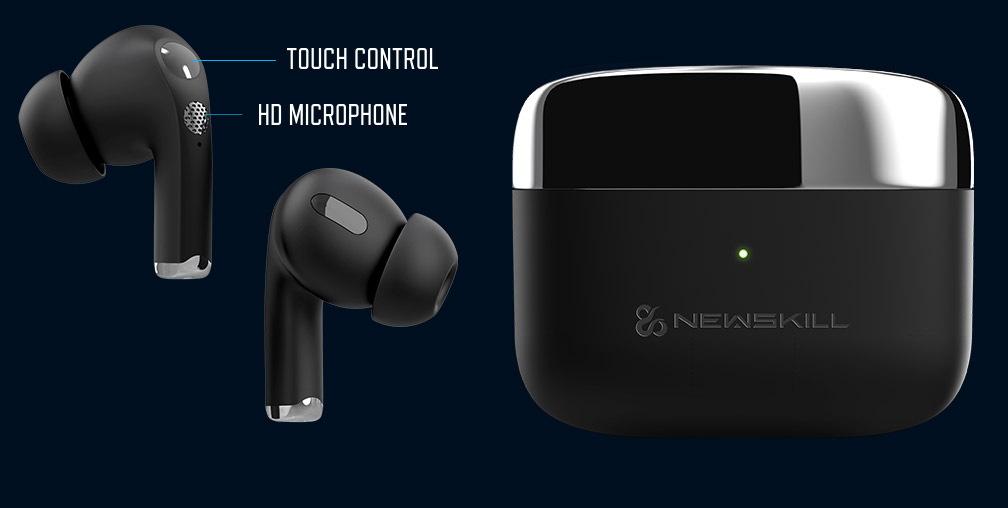 Noise cancellation modes
These different modes are perfect for different situations. The noise-canceling mode (ANC), which contributes to clean and clear sound reception, is great for receiving calls or listening to music, reducing outside noise by up to 30 decibels. However, you can also enjoy the transparency mode, which allows you to listen perfectly, but without losing detail of what is happening around you. This mode is great for sports or walking around the city because it allows you to listen to your favorite music, but also listening to the noise of what is happening around you, so that nothing catches you by surprise, the first thing is your safety
The importance of autonomy
Something essential in a wireless headset is its autonomy, so our Anuki are charged in just one hour, having an autonomy of about four in continuous use, reaching up to 60 days on standby. And, to make sure they are always ready for use, their charging and storage case can quadruple the Anuki's autonomy, with just one full charge, through its C-type charging cable. Thanks to the LED indicator on the case, you will never run out of battery, but you can also check the battery on the mobile device to which the headphones are paired
Hassle-free connections
Connecting Anuki to your devices is super easy. Simply open the charging case with the headphones inside and, when you connect the Bluetooth on your device, the headphones will show up on your device to be paired. Once paired, you will even be able to receive calls, thanks to its integrated mic.
Anuki are a complement that can not miss in your day to day, choose between its black or white version and carry freedom in your pocket
Comments (0)
No comments at this moment