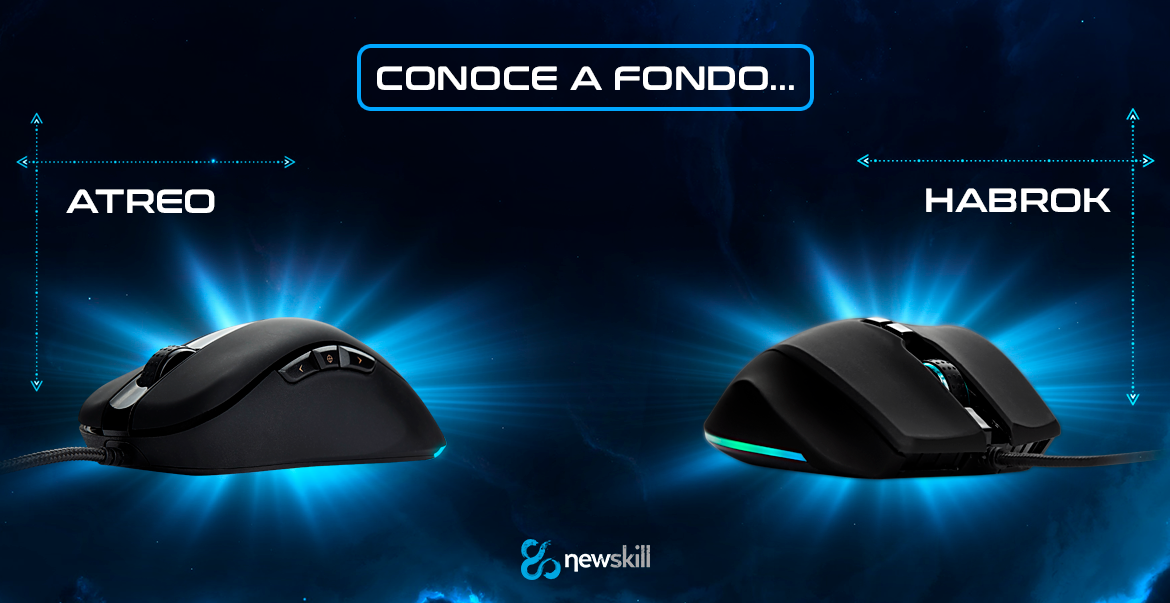 From Newskill we bring you a very good news. If you are thinking about renewing your set-up, we bring you a couple of very different travel companions. Today we present you our two new RGB gaming mice: Habrok and Atreo. Do you want to know more about them and find out which of them best suits your gaming style? Get comfortable in your shiny new Kitsune RGB gaming chair and pay attention.
Atreo: the lightest mouse in the family
First of all, the Atreo gaming mouse from Newskill arrives as the most compact and easy-to-handle option among our entire family of gamer mice. Its versatility and its perfect glide on your mouse pads (have you already tried the Nemesis XL?) will make Atreo one of your favorite candidates
Atreo is a gaming mouse with optical sensor PMW 3327 and its main function is to give precision to the player, making it an ideal peripheral for players accustomed to the shooter genre. The Sniper function is located on the side button. This function will serve to reduce the DPI to 200 and increase the chances of hitting the enemy. We must keep the button pressed at all times, and when we stop doing so the Atreo configuration will return to the initial one
The Atreo gaming mouse has the possibility of configuring up to 6200 DPI so that we can adapt it to our particular style of play. We will reach a maximum speed of up to 220 DPI and if we also have a gamer keyboard like the Hanshi Spectrum, we will have many more chances to be victorious in our gaming session
If you are part of the claw team, you are in luck, because this mouse has that kind of grip to provide even greater precision if possible. The design is focused on ensuring perfect playability, including natural rubber coated sides and a Teflon surface. Finally, the RGB lighting adds a touch of color to this gaming mouse. We will be able to illuminate the logo and a strip on the back, whose colors we can customize to our liking through a dedicated software.
Habrok: precision will be your best weapon
The Habrok gaming mouse has a professional optical sensor that is among the best on the market. The Pixart 3360 optical sensor adapts to any type of situation and game. We can reach up to 16000 DPI and configure them from a custom software. Its maximum speed is 250 IPS and we can glide quickly and intuitively (more if we do it on the Bahamut mouse pad). And if you like speed, Habrok has a maximum acceleration of 50 Gs, which will make it difficult to locate the cursor on your monitor (have you heard that the Icarus monitor is on its way?)
A good gaming mouse wouldn't be a good mouse if it didn't have RGB illumination. Habrok does not lag behind and offers us a lighting divided into phases and with multiple different effects to be able to configure. The ideal choice for those of you who belong to the palm team, which will provide you with a perfect grip in its ergonomic and functional design. Its multitask finish will make Habrok a mouse suitable for all types of players. And if you are looking for a mouse for life, this is a great option, as it has Teflon feet stickers that ensure durability and a very smooth glide. Configure the eight buttons and win all your games
We hope that Atreo and Habrok will be your future gaming mice. And if not, we invite you to get to know the rest of the peripherals belonging to this family to see if they can become your best weapon. Renshi, Helios and Eos are waiting for you.
Comments (0)
No comments at this moment